The war on wastage
09 August 2017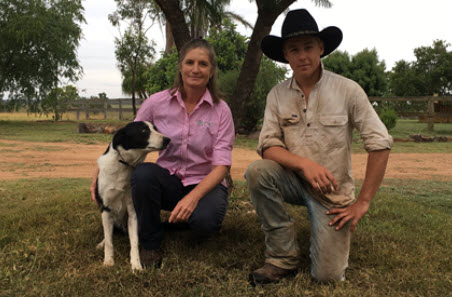 The Calf Wastage project, driven by producers' desire to reduce calf loss, is supporting further research into cost-effective strategies that help lift weaning rates.
A six-member producer reference group, representing the broad range of northern Australia's breeding operations, is providing grassroots' direction for the project. The research, which builds on discoveries from MLA's CashCow project and the Beef CRC, involves an extensive review of current knowledge and understanding of 'calf wastage'. This will assist in identifying potentially practical and profitable management interventions worthy of further research and on-farm trials.
MLA talked to four of the reference group members about their involvement:
Kylie Schooley
Kylie is a cattle veterinarian in Chinchilla, Queensland, but also breeds cattle for niche premium markets such as EU and Pasturefed Cattle Assurance System (PCAS). She works alongside her husband, Simon, and children Kobi, 17, and Amilia, 15, at 'Rocky Springs', west of Mundubbera.
With 600 breeders, they consider themselves 'small time'. Every calf contributes to their business's viability, so any waste in the operation hurts.
"I wanted to be part of this because I really believe in research and development. We were involved in CashCow and this seemed a natural progression," she said.
"Given our smaller scale, even if we could save a few extra calves a year, that would help our profitability."
Geoff Murrell
Geoff is General Manager of Paraway Pastoral's northern operations, setting financial targets and managing outcomes for seven Queensland properties.
"There has been a lot of research into specific aspects of calf loss over the years, but this project captures a broad view and deals with many of the contributing factors, which are interconnected," he said.
"When I was managing 'Helen Springs', prior to my role here, we were part of CashCow and got a lot of benefit from that, particularly the geographical information and the ability to benchmark performance.
"I'm hoping we'll see similar outcomes from this – good quantitative data to develop practical strategies we can employ in our businesses every day to improve profit and animal welfare."
Wendy Brodie
Wendy and her husband, Jim, run 1,100 breeders at 'Redland Park', 30km east of McKinlay in north-west Queensland.
Supplying mainly the heavy feeder market with their Santa Gertrudis-Angus cross, they believe their annual calf loss from pregnancy test to weaning is about 10%.
"We don't really know what the major contributors are, so we're really keen to see some cost-effective, practical outcomes that will help us lower it," Wendy said.
"We're trying enhanced mothering – running older cows with first calvers – to see if that helps, and we're also examining other animal husbandry practices we do on-farm to identify weaknesses but, without robust research outcomes, it's very hard to know."
Bec Comiskey
Bec and her husband, Dave, run a breeding and fattening operation at 'Melton', an 8,524ha property near Alpha, in central-west Queensland.
The business is certified organic and focuses on supplying premium markets such as MSA, EU and PCAS.
"Our operation is quite modest but, even so, we've experienced high calf losses from pregnancy test to branding. Through implementing seasonal mating, we have managed to reduce that to 8%," she said.
"Culling the cows that don't bring a calf in at branding has been the key."
Bec hopes her involvement in the group will give her the opportunity to share their experiences and learn from others.
"The group helps keep the project focused on producing practical, cost-effective strategies that producers can understand and will implement to improve calf survival," she said.
Lessons learned
Calf loss between pregnancy test and weaning is a problem experienced by many beef breeding operations.
Producers believe the causes of calf loss are varied and can be influenced by environment and management.
Producers support research and development to improve animal welfare outcomes and lift productivity.
Information:
CashCow: www.mla.com.au/cashcow
Researcher
Dave Smith, Department of Agriculture and Fisheries Senior Extension Officer.
T: 07 4761 5150 E: dave.smith@daf.qld.gov.au
Reference group members
Geoff Murrell: E: geoff.murrell@paraway.com.au
Kylie Schooley E: schooley@bigpond.com
Wendy Brodie E: brobuck@bigpond.com
Bec Comiskey E: meltongrazing@bigpond.com
Join myMLA today
One username and password for key integrity and information Systems (LPA/NVD, NLIS, MSA & LDL).
A personalised online dashboard that provides news, weather, events and R&D tools relevant to you.
Customised market information and analysis.
Already registered for myMLA?