Top chefs to showcase the currency of lamb
10 May 2017
Meat & Livestock Australia (MLA) has launched its new Autumn Lamb campaign, continuing to position lamb as the meat that brings all Australians together.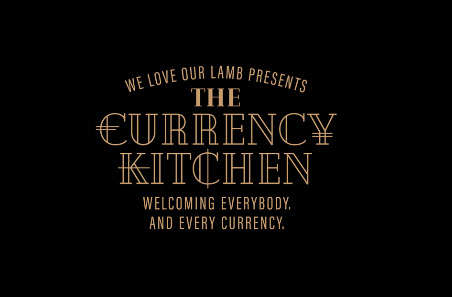 The new campaign builds on MLA's established "You Never Lamb Alone" platform, with the integrated activities tapping into the role lamb plays in unifying Australians regardless of culture, race, religion, gender, sexuality and ethnicity.
The campaign will feature a week-long pop-up restaurant based in Sydney – The Currency Kitchen – which will feature leading chefs serving up delicious lamb to diners who can pay for the experience with currency from anywhere in the world.
The Currency Kitchen will feature a diverse collection of top Australian chefs including Nic Wong (Cho Cho San), Analiese Gregory (Bar Brośe), Paul Carmichael (Momofoku Seiōbo), Jacqui Challinor (Nomad) and Ben Milgate and Elvis Abrahanowicz (Porteno), each creating a bespoke lamb menu inspired by their personal background and heritage.
As part of the campaign, the restaurant will be complemented by a number of marketing activities, including a partnership with Pedestrian.TV to target young Australians and an integrated broadcast strategy across TV, online video, out of home advertising and social media which will showcase the highly acclaimed 30 second advertisement used as part of MLA's 2016 Spring Lamb campaign.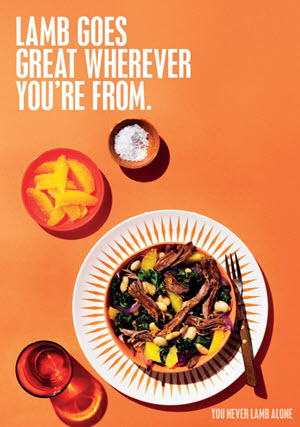 MLA Group Marketing Manager Andrew Howie said the Autumn Lamb campaign was an opportunity to further showcase Australian lamb to new, younger consumers while continuing to utilise the successful message around celebrating diversity and unity featured in recent MLA lamb marketing activities.
"The face of Australia continues to evolve and change and is made up of many rich and varied backgrounds. This campaign is about ensuring we are continuing to make red meat relevant to a diverse, modern Australia," Mr Howie said.
"There is no better way to celebrate this diversity than by bringing people together in one room to experience the different ways that Australians enjoy lamb.
"The Currency Kitchen is a new concept that enables you to pay what you like in a currency that means something to you, enjoy some lamb and celebrate getting together."
Mr Howie said MLA's marketing activities are designed to grow demand for lamb and aim to reach as many consumers as possible, including those that are not traditionally larger consumers of the product.
"All of our marketing activities are informed by detailed consumer insights and are ultimately designed to return value to Australian producers and the industry," Mr Howie said.
The Currency Kitchen will open to the public in Sydney from Tuesday, 16 May, and run over the course of five nights, concluding on Saturday, 20 May, with money raised going to charity.
Lamb lovers are encouraged to book their place at The Currency Kitchen by visiting www.TheCurrencyKitchen.com.au and discover delicious new lamb recipes by visiting the We Love Our Lamb Facebook and YouTube page.
For an overview of MLA's domestic marketing activity click here.
Join myMLA today
One username and password for key integrity and information Systems (LPA/NVD, NLIS, MSA & LDL).
A personalised online dashboard that provides news, weather, events and R&D tools relevant to you.
Customised market information and analysis.
Already registered for myMLA?