Up in the air
08 June 2018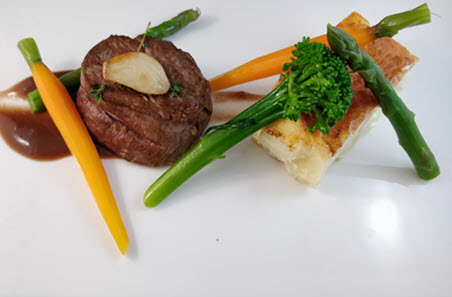 With help from MLA, seven dishes featuring Australian lamb and beef will be served at 30,000 feet when American Airlines introduces a new menu on flights from Sydney and Los Angeles during the next year.
The dishes landed on the menu following a four-month process of creating, fine-tuning, costing and tasting before being 'approved to fly' by American Airlines.
Heading the menu overhaul has been Gate Gourmet's regional executive chef for the Asia Pacific region, Jeremy Steele. Gate Gourmet is part of the global Gate Group, which services end-to-end airline catering from 200 facilities in 60 countries.
When Jeremy was first briefed by the airline to create new protein concepts, a first port of call was to MLA Corporate Chef Sam Burke and MLA retail training facilitator Kelly Payne.
"MLA provided education, motivation and inspiration to me and my team to build beef and lamb recipes that I can then present confidently to my airline carrier customers," Jeremy said.
"MLA presented secondary cuts of red meat like the lamb shoulder, beef brisket and the rump cap.
"These cuts provide us with a winning combination in terms of price, flavour and texture and they are very on trend at the moment."
MLA also provided Jeremy and his team with an understanding of Meat Standards Australia (MSA).
"My executive chef Franck LeBon immediately saw the benefits of MSA and the way it guarantees eating quality to our passengers," Jeremy said.
"He was excited by the prospect of delving into the data to see the impact different cooking methods have on eating quality."
What's on the menu?
In November 2017, Jeremy and his team presented 16 new protein concepts to American Airlines. Seven beef and lamb dishes made the cut, which were:
16-hour Moroccan-spiced lamb shoulder (cooked sous vide) with gremolata and pearl couscous
Wagyu burger with tomato relish and gherkins
Wagyu beef short rib (cooked sous vide), smoked mashed potato and oyster mushrooms
grilled beef fillet, miso hollandaise and duck fat roasted potatoes
Philly-style steak sandwich with spicy tomato relish and sautéed onions
slow-cooked lamb (cooked sous vide) with liquorice gravy
beef stroganoff with parsley potatoes and baby carrots.
Five-star dining
"Today's consumer is more discerning than ever," Jeremy said.
"We're monitoring Instagram for food trends and I sample what the competition is dishing up by flying on different airlines."
"We're also experimenting with new cooking methods like sous vide to ensure red meat maintains its texture and flavour and eats well at altitude."
Now, more than ever, the consumer wants to know the story behind their meal.
"They don't just want to know they'll be dining on beef; they want to know it's Jack's Creek beef brisket," Jeremy said.
"We can't afford to stand still. And that's why MLA's involvement has brought us real benefits so my team and I can deliver red meat dishes that are delicious, innovative and cost-effective to our airline carriers and passengers."
Partners in the kitchen
As MLA's Corporate Chef, Sam Burke, spends most of his time with foodservice companies, getting to know the demands they are facing . Sam's work with Gate Gourmet was no exception.
"Their pressure points became my pressure points. It can take many months of trialling, tasting and then reworking dishes to ensure they hit the mark," Sam said.
"One of the highlights in my job is working with companies like Gate Gourmet to deliver something that their customer is going to love.
"We need to keep beef and lamb top of mind with foodservice companies like Gate Gourmet or we risk having red meat substituted with chicken or pork."
More information
Join myMLA today
One username and password for key integrity and information Systems (LPA/NVD, NLIS, MSA & LDL).
A personalised online dashboard that provides news, weather, events and R&D tools relevant to you.
Customised market information and analysis.
Already registered for myMLA?