Virtual beef paddock to plate tour launched at EKKA
10 August 2017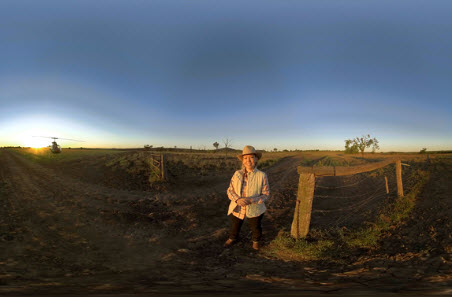 Visitors to the Ekka in Brisbane this week have been immersing themselves in the story of Australia's beef production, from the farm right through to the consumer, using innovative 360 degree virtual reality technology.
Meat & Livestock Australia (MLA) launched a new virtual reality Paddock to Plate 360 Experience at the Ekka – bringing to life Australia's world class beef production systems for the community through a 360 degree experience shot across the Australian beef supply chain.
Current research indicates there are now about 20 per cent less Australians from urban centres visiting cattle or sheep farms annually compared to six years ago. This, coupled with a rise in consumer interest in the provenance of food, has led MLA to an innovative new way to engage the broader community about how red meat is produced.
Speaking at the Ekka, MLA Chief Marketing & Communications Officer Lisa Sharp said one of the key objectives of the red meat industry and MLA was to meet the rise in consumer interest with engaging and fact based tools.
"What better way to help address consumers rising interest in provenance than an immersive Paddock to Plate 360 video experience that simulates a guided tour of our beef industry and highlights the fantastic work of our Australian beef producers," Ms Sharp said.
"Tools like this help educate and engage consumers by delving into their interest in sustainability, quality control and animal welfare practices within our industry"
"It ties in with MLA's other key education programs, including supply chain paddock to plate tours, community engagement programs, domestic beef marketing projects and international marketing efforts.
" Ms Sharp said about 400,000 people were expected to attend this year's EKKA and MLA have been busy screening the Paddock to Plate 360 Experience every 15 minutes for groups at its stand in the Beef Pavilion.
"Ultimately this is about showcasing Australian beef as a sustainable product and a healthy and valuable part of a balanced diet."
Ms Sharp said the 360 degree reality tour would cater to consumers by outlining key beef production and supply chain values, standards, practices, systems and processes that underpin their access to the best beef in the world.
She said the footage would take them into the world of Australian cattle farming, transportation, feedlots, processing and end markets, such as restaurants.
"A longer version of the video has also been produced that provides more in-depth information about each of these crucial steps in the supply chain and we envisage this can be used with trade customers both at home and in international markets," she said.
"All red meat industry participants are custodians of the welfare of the animals in their care and the natural resource base and the community places high – and growing – expectations on them.
"MLA is committed to assisting our industry in ensuring the entire Australian red meat and livestock sector maintains the highest standards. We should be very proud of what we produce and not be afraid to tell our story."
View the 60 second preview of Experience below:
Join myMLA today
One username and password for key integrity and information Systems (LPA/NVD, NLIS, MSA & LDL).
A personalised online dashboard that provides news, weather, events and R&D tools relevant to you.
Customised market information and analysis.
Already registered for myMLA?