'We Love Our Lamb' to partner with Mardi Gras in celebration of lamb and inclusiveness
21 February 2017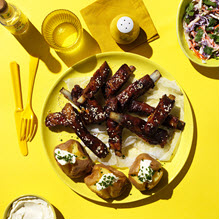 Meat & Livestock Australia (MLA) has announced its 'We Love Our Lamb' marketing brand will partner with the Sydney Gay & Lesbian Mardi Gras Parade in 2017 – further promoting lamb as the dish that brings all Australians together and celebrates inclusivity.
This innovative new partnership will allow MLA to build on its recent lamb marketing activities promoting it as the meat that brings everyone together, which has proven successful in MLA's Spring and Summer campaigns.

MLA Group Marketing Manager Andrew Howie said the partnership would allow MLA to continue to reach new audiences and consumers – and assist in continuing to grow demand for lamb.

"Ultimately, like MLA's recent marketing activities for lamb, this partnership is about continuing to expand the reach of lamb to more Australians and consumers," Mr Howie said.

"We are informed by consumer insight and data in all of our marketing activities – and it is about continuing to make lamb relevant to a diverse, modern Australia in order to grow demand and increase returns to levy payers."

Mr Howie said the unity message promoted through lamb's recent Spring and Summer campaigns had struck a chord with consumers and had allowed MLA to reach new audiences – with more than 14 million views of the advertising materials across the two campaigns and over 153,000 shares of the content through social media channels.

The partnership will see a 'We Love Our Lamb' float in the Mardi Gras Parade on 4 March which features a digital billboard that will allow all Australians, no matter where they are, to be a part of the Mardi Gras parade, in an effort to make the event even more inclusive.

Mr Howie said what made lamb's participation in the parade unique and innovative was allowing for Australians right across the country – regardless of where they lived – to show their support and be part of the float and the parade.
"This unique feature of our participation is in keeping with the lamb brand of bringing everyone together in celebration," Mr Howie said.
"The parade continues to champion unity and inclusivity – so it made perfect sense for lamb to join in the celebration. Plus, it's not a party without lamb on the menu."
In addition to participation in the parade, there will be several other activities including national print media, localised outdoor advertising and social media.
The partnership was launched yesterday at Mardi Gras Fair Day in Sydney, where cook and lamb lover Hayden Quinn was in attendance at the 'We Love Our Lamb' stand.
To join the celebration, supporters simply need to learn the "lamb dance" and upload a video of them performing all or part of it on the
We Love Our Lamb Facebook
page.
Join myMLA today
One username and password for key integrity and information Systems (LPA/NVD, NLIS, MSA & LDL).
A personalised online dashboard that provides news, weather, events and R&D tools relevant to you.
Customised market information and analysis.
Already registered for myMLA?