Weighing up the options - graze, bale or harvest?
11 September 2018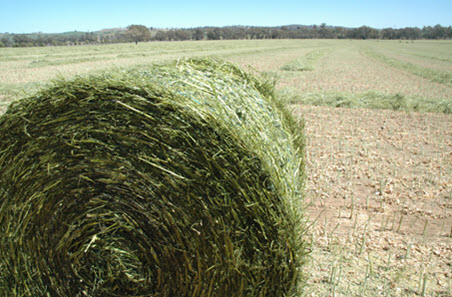 Compared with previous drought scenarios, mixed farmers in southern Australia are currently making decisions on the future of cereal and oilseed crops in an era of high livestock prices.
Kirrily and Greg Condon, mixed farming agronomists from Grassroots Agronomy at Junee in southern NSW, have been working through the 'harvest vs hay or grazing' decision making process with clients in the past fortnight.
"Options vary between continuous croppers and mixed farmers but the key factor is to develop a plan, understand the logic behind it and follow it through," Greg said.
"Making a call and sticking with it is crucial for mental wellbeing during dry times given external pressures from media and neighbours."
After fully assessing a crop's current dry matter and harvest yield potential, Greg recommends producers weigh up the following factors:
1. Utilisation: Mixed farmers need to consider how the hay or standing crop (if it is to be grazed off) will be utilised to increase returns in their livestock enterprise and is their system set up to maximise the benefit.
2. Practicalities: Continuous croppers (with no livestock) should assess their ability to make, store and market good quality hay particularly if they are relying on contractors and selling into the open hay market.
"Timeliness of hay making, weather damage and a potential shift in value are all risks," he said.
3. Economics: The real potential of the crop to be either turned into hay or allowed to go through to harvest.
"There are crops which don't have 2.5t/ha of dry matter on offer which would be better suited to grazing or even spraying out if weed pressure is high."
Calculations by Grassroots Agronomy show 2.5t/ha of canola hay with a value of $250/t (with $188/ha hay production costs) is equal to 0.85t/ha of harvested canola at $600/t (with $103/ha harvest costs).
Resources:
Agriculture Victoria Grain versus Hay Calculator
Feed budgeting and dry matter in crops tools and calculators developed during the Grain and Graze program
Making More from Sheep's Turning Pasture into Product module
GRDC information on grazing canola
Riverina Local Land Services information on grazing standing canola crops late in the season (including animal health issues)
Information:
Kirrily Condon
Email Kirrily Condon
Join myMLA today
One username and password for key integrity and information Systems (LPA/NVD, NLIS, MSA & LDL).
A personalised online dashboard that provides news, weather, events and R&D tools relevant to you.
Customised market information and analysis.
Already registered for myMLA?