2015-16 Australian grainfed beef exports trump old record
28 July 2016
2015-16 saw a record volume of Australian grainfed beef exported at 267,578 tonnes shipped weight (swt), up 15% year-on-year, and 4,618 tonnes swt higher than the previous record in 2006-07.
Dry conditions across most of the eastern states resulted in significant stock turnoff – to processors, live exporters and feedlots – and the consequent high number of cattle on feed clearly led to higher grainfed beef production. Year-to-March (latest data) feedlot marketings reached a record level – with 2.12 million head sold.
Coupled with strong international demand, Australian grainfed beef exports were assisted by a lower Australian dollar for most of the year. Against the US$ the A$ averaged 0.728US¢ for the year and was 13% lower than 2014-15. The A$ followed a similar trend against the Japanese Yen and the Korean Won, 11% below year-ago levels against the Yen at 85.008¥, and 5% lower year-on-year against the Won at 854.278₩.
Further supporting exports were tariff cuts on Australian product into the two largest grainfed beef markets. In accordance with the Japan Australia Economic Partnership Agreement (JAEPA), the frozen beef tariff reduced to 27.5% this year while the tariff on chilled beef declined to 30.5%. Before the implementation of the JAEPA, the tariff was 38.5%. Similarly, the Korea Australia Free Trade Agreement (KAFTA) saw beef tariffs drop to 32% - having been 40% prior to KAFTA.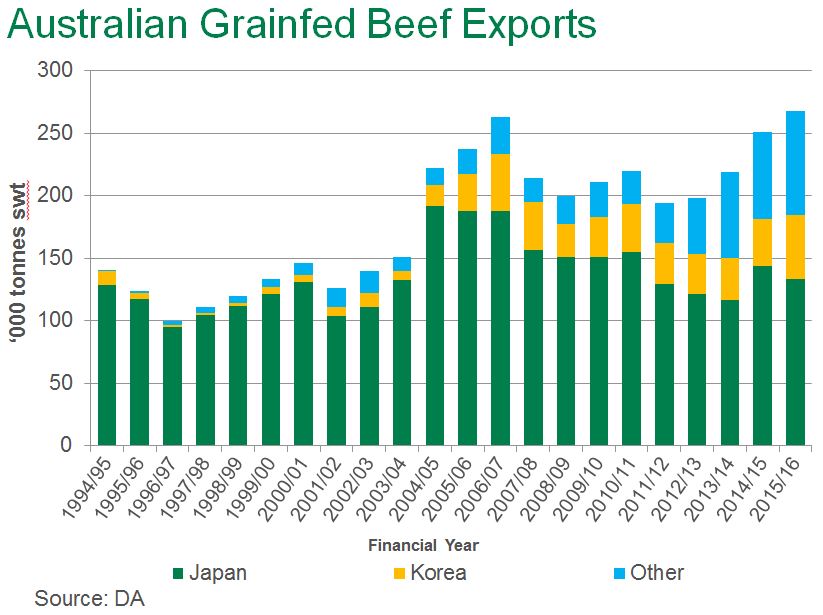 Japan
Japan represented the majority of Australian grainfed beef exports (50% during 2015-16). Japan previously accounted for a higher proportion of the grainfed trade, but growing volumes to other markets at the same time as a small decline in shipments to Japan in 2015-16, which brought this down to levels similar to the five year average. Demand from Japan was limited at times of the year, reportedly due to the high volumes many traders had on hand, however that didn't stop the average chilled export price jumping 59% year-on-year, to $13.28/kg FOB.
Shipments of grainfed beef to Japan eased 7% year-on-year to 133,283 tonnes swt, most of which was manufacturing (23%), brisket (13%), fullsets (10%) and chuck roll (10%) – all except fullsets saw a decline in volume.
Korea
In contrast, grainfed exports to Korea reached a new high, increasing 37% year-on-year to 31,448 tonnes swt and lifting market share for 2015-16 to 19%. Demand was assisted by the third tariff cut in the FTA occurring at the beginning of the year, combined with less locally produced Hanwoo product on the market.
Shipments consisted mostly of chuck roll, blade and brisket, all of which increased significantly, most notably brisket – offsetting the lower volumes exported to Japan. Frozen grainfed beef to Korea jumped 57% from 2014-15 to make up 50% of shipments to Korea while chilled grainfed beef increased 22% year-on-year.
China
Also benefitting from reduced tariffs and increased demand, grainfed exports to China almost doubled from year ago levels (up 83%) to 23,950 tonnes swt, accounting for 9% of Australian grainfed beef volumes shipped during 2015-16.
While Australian grainfed beef exports to China were well above year ago levels, they were predominantly frozen cuts, consisting mostly of brisket (6,113 tonnes swt, up 70%) and manufacturing beef (which nearly tripled to 4,657 tonnes swt).
Other markets
Exports to the EU were 5% above 2014-15 at 17,402 tonnes swt and consisted mostly of silverside, topside and striploin.
Grainfed beef exports to the US reached 14,028 tonnes swt, up 2% year-on-year. Main components of these shipments were thin flank, topside, cube roll, rump and striploin.
The Middle East imported 8,514 tonnes swt of Australian grainfed beef, back 8% from year-ago levels, driven mostly by a 35% decline in topside. On the other hand, manufacturing beef, cube roll and tenderloin exports all increased however were not enough to offset the decline in topside volumes.
Posing competition to Australian grainfed exports is the presence of the US in both Japan and Korea. During 2015-16, a greater diversity of cuts was exported from the US to Korea – previously exports consisted mostly of short-ribs but more recently has included increased volumes chuck roll and brisket. Furthermore, the premium for wholesale US beef over Australian beef, in Won terms, has narrowed. As US production increases, export volumes of the predominantly grainfed product lift and tariff reductions continue in accordance with the US FTAs with both Japan and Korea – the volumes of US product in market is likely to become more competitive for Australian product for the year ahead.
The proportion of Australian grainfed beef exports during 2015-16 reached 23% of total beef exports, which was up from recent years but not yet near the proportion of grainfed beef Australia was exporting in 2005-06 and 2006-07 (27%). However, following the expected high numbers of cattle on feed during the final two quarters of 2015-16 and the expected lower production of grassfed beef, next year's grainfed beef proportion of exports may edge up to 2007 levels.
Join myMLA today
One username and password for key integrity and information Systems (LPA/NVD, NLIS, MSA & LDL).
A personalised online dashboard that provides news, weather, events and R&D tools relevant to you.
Customised market information and analysis.
Already registered for myMLA?