2015 goat production up on 5-year average, down on 2014
16 February 2016
---
Australian goat slaughter and production for 2015 increased on the five-year average, with 32,746 tonnes of goat being produced in Australia from a total of 1,894,844 head processed (Australian Bureau of Statistics).
National goat numbers slaughtered increased 13% on the five-year average, with majority of these numbers being slaughtered in Victoria, which showed a 35% increase. Slaughter in NSW also showed an increase from the five-year average, up 21% to 110,606 head. Queensland, although killing 710,844 head, up 3% on the five-year average, was back 7% on 2014 while SA killed 303,295 head, back 4% on the five-year average and 15% on 2014.
2015 saw production 10% higher than the five-year average, however average carcass weights declined 4% to 15.2kg. NSW saw the most dramatic reduction, back 11% to 13.4kg cwt and Victoria averaged 14.4kg cwt, back 5% on five-year averages. Both Queensland and SA goat carcass weights lifted, up 3% and 1% to average 16.9kg and 15.3kg, respectively.
Production in Victoria, due to the higher number of goats slaughtered in 2015, was highest on 14,312 tonnes cwt, up 29% from the five-year average while production in Queensland lifted 5%, due to increases in both carcass weight and numbers killed. NSW saw a jump in production of 7% on the back of increased slaughter. SA, despite a lift in the average weight of goats slaughtered, saw production slip 7% to 4,477 tonnes cwt.
The strong prices received by goat producers last year indicate that 2015 would have been among the highest revenue years on record for the Australian goat industry, despite production being lower than the year before, with over-the-hook indicator following the same upward trajectory seen in 2013 and 2014. Overseas demand for Australian goat meat has provided an incentive to producers and processors to invest more in infrastructure, with key markets for Australian goat meat including the US, Taiwan and the Caribbean.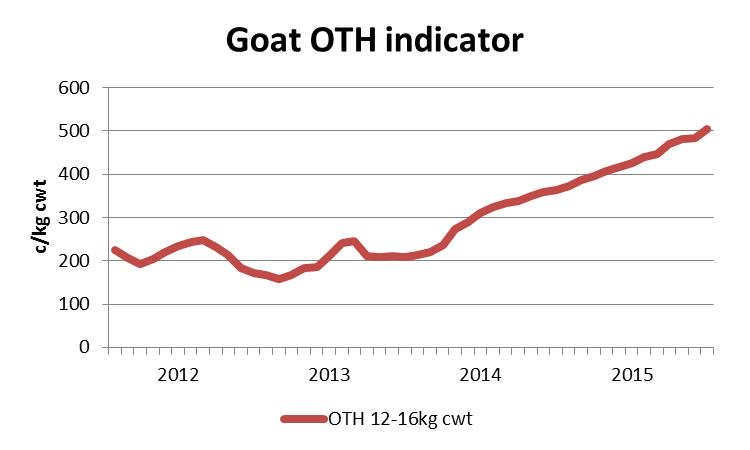 Join myMLA today
One username and password for key integrity and information Systems (LPA/NVD, NLIS, MSA & LDL).
A personalised online dashboard that provides news, weather, events and R&D tools relevant to you.
Customised market information and analysis.
Already registered for myMLA?