March quarter beef export values ease
17 May 2016
---
Coupled with the strengthening A$, easing export prices and lower volumes, the value of Australian beef exports for the March quarter was $1.7 billion FOB – down 17% from the corresponding period in 2015.
Interestingly, despite the year-on-year decline in export volumes and prices, the March quarter value remained historically high and was 28% above the five-year average.
The average unit price for Australian beef was A$6.86/kg FOB for the quarter – back 1% year-on-year and 6% from the peak in the 2015 September quarter. This was in line with global price trends.
Value of shipments to the US eased 36% year-on-year (to $479 million FOB) due to a 17% decrease in volume and a decline in unit prices – averaging A$6.97/kg FOB for the quarter, back 3% year-on-year. Majority of shipments to the US were boneless frozen cuts, averaging A$5.92/kg FOB (down 9% year-on-year), underpinned by imported 90CL (90% Chemical Lean) prices easing 10% year-on-year (620.85A¢/kg CIF) on the back of high supplies in the market. Interestingly, the average unit price of boneless fresh / chilled product to the US was 6% dearer year-on-year, at A$9.98/kg FOB, but lower than the peaks of late 2015, with the chilled market also influenced by the large stocks.
Value of exports to Japan were back 18% year-on-year, to $351 million FOB and the value of shipments to China were also back compared to the previous March quarter, easing 16% to $146 million FOB. Each of these markets were influenced by slightly lower average export prices, but mostly by reduced export volumes in the wake of lower Australian beef production.
Korea bucked the trend and the quarterly export value increased 27% year-on-year, to $298 million FOB, with a jump (63% year-on-year) in grainfed beef exports for the quarter the driving factor. The average unit price paid by Korea peaked in December at A$7.19/kg FOB, however averaged A$6.86/kg FOB during the 2016 March quarter, up 5% year-on-year.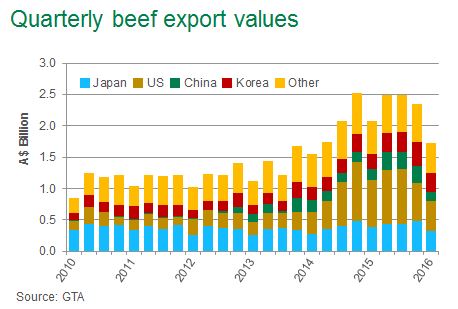 To Australia's other key export markets, value trends were mixed;
Indonesia was up 21% year-on-year, at $68 million FOB
Exports to Taiwan reached $41 million FOB, up 4%
Australian beef values to Saudi Arabia eased 36%, to $32 million FOB
Canada declined 33% to $37 million FOB
Due to recovering production in the US, improved market access from competing countries, and lower Australian production, Australian beef export values are expected to remain below year-ago levels for the duration of 2016.
Join myMLA today
One username and password for key integrity and information Systems (LPA/NVD, NLIS, MSA & LDL).
A personalised online dashboard that provides news, weather, events and R&D tools relevant to you.
Customised market information and analysis.
Already registered for myMLA?