Opportunities to grow as Iran opens up
05 May 2016
---
Iran has intermittently been a large export market for Australia over the years, with total red meat export volumes as high as 11,227 tonnes shipped weight (swt) in 2012 and 7,024 tonnes swt in 2013.
On top of this, Iran has also been a strong market for Australia's live sheep trade – again intermittently, with interruptions due to trade sanctions, regional instability issues, and Iranian requirements for inspections of animals and products.
The recent removal of economic sanctions on Iran has the potential to allow this country to grow in importance as an export market for Australia's livestock industry. Recent reports by Business Monitor International (BMI) suggest Iran is one of the two major emerging markets with a population under 100 million people that hold the most promise for consumption growth over the next five years (along with Vietnam). In addition, BMI notes strong opportunities in the luxury segment in Iran – with a large population, increasing incomes and improved access to credit – which is a potential target for Australian red meat.
The BMI livestock outlook for Iran indicates a large increase in demand for, and consumption of, meat, but production growth is not expected to be able to grow at the same rate, creating opportunities for imports. At a competitive level for Australian exporters, however, Iran ended a three-year ban on Brazilian beef at the end of 2015, which will make it more difficult in the commodity sector. India is also likely to be a significant beef supplier into Iran. In addition, there are government goals for self-sufficiency in Iran, but these are likely to take years to come to fruition, if ever.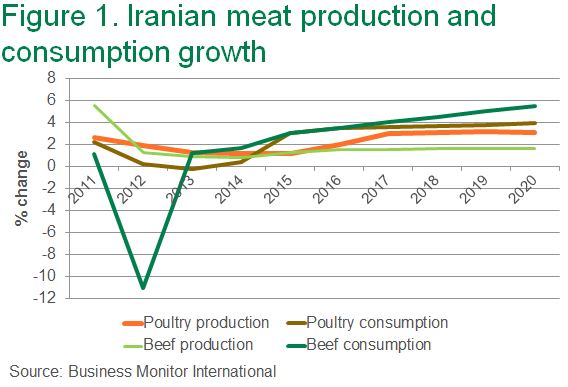 Figure 1 shows BMI forecasts for growth in beef and poultry production and consumption to 2020.
Join myMLA today
One username and password for key integrity and information Systems (LPA/NVD, NLIS, MSA & LDL).
A personalised online dashboard that provides news, weather, events and R&D tools relevant to you.
Customised market information and analysis.
Already registered for myMLA?