Queensland trade and heavy cattle price difference narrows
28 April 2016
---
A fall in the Queensland saleyard cattle indicators occurred again this week – continuing the trend that commenced as 2016 opened.
While not what producers had hoped for, particularly after an astonishing rise in 2015, the decline correlates with a reduction in global beef prices.
Of particular interest is that Queensland heavy steer prices (500-600kg C4) have declined to a lesser extent than trade cattle (330-400kg C4) – as confidence wanes at the lighter spectrum of the market with the ongoing lack of rain.
During 2015, the average weekly premium for trade steers over the heavy steer indicator was 31¢/kg cwt. This stretched to 131¢/kg cwt very briefly at the beginning of 2016, with some rain boosting confidence for young cattle, but since then the gap has narrowed and the trade indicator has dropped at a faster rate than the heavy indicator.
Last week the difference between the two indicators dropped to 47¢.
For the months ahead, considering the close relationship between Australian cattle prices and the US market, the ongoing uncertainty in that market will continue to limit upward price potential.
Some analysts are forecasting the recent falls in US imported beef prices to stabilise, but they are not likely to recover to the levels recorded at the beginning of the year. This will also means it will be difficult for the Queensland heavy steer indicator to recover to the levels seen at the beginning of 2016 through the winter months.
As the peak rainfall period for Queensland draws to a close, it is also now doubtful the demand for the lighter/younger spectrum of the market will ignite, suggesting the gap between heavy and trade cattle will continue to narrow.
Largely pending rain, it will probably be younger cattle that continue to ease at a greater rate than heavy cattle – the extent at which will hinge heavily on when and at what level the US market stabilises.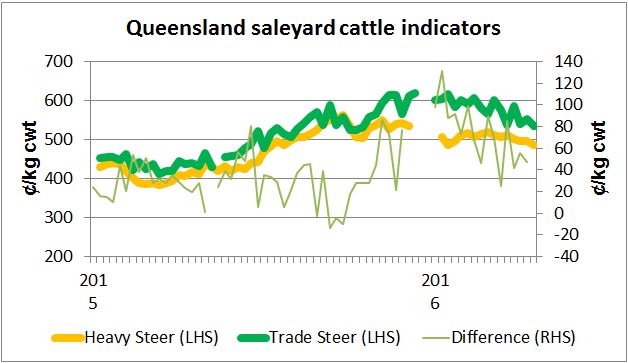 Join myMLA today
One username and password for key integrity and information Systems (LPA/NVD, NLIS, MSA & LDL).
A personalised online dashboard that provides news, weather, events and R&D tools relevant to you.
Customised market information and analysis.
Already registered for myMLA?