Restockers leading EYCI charge
04 July 2016
The Eastern Young Cattle Indicator (EYCI) continued its record breaking run last week, finishing Thursday at 659.25¢/kg cwt, up 18.25¢/kg cwt from the previous week and 125¢/kg cwt above year-ago levels.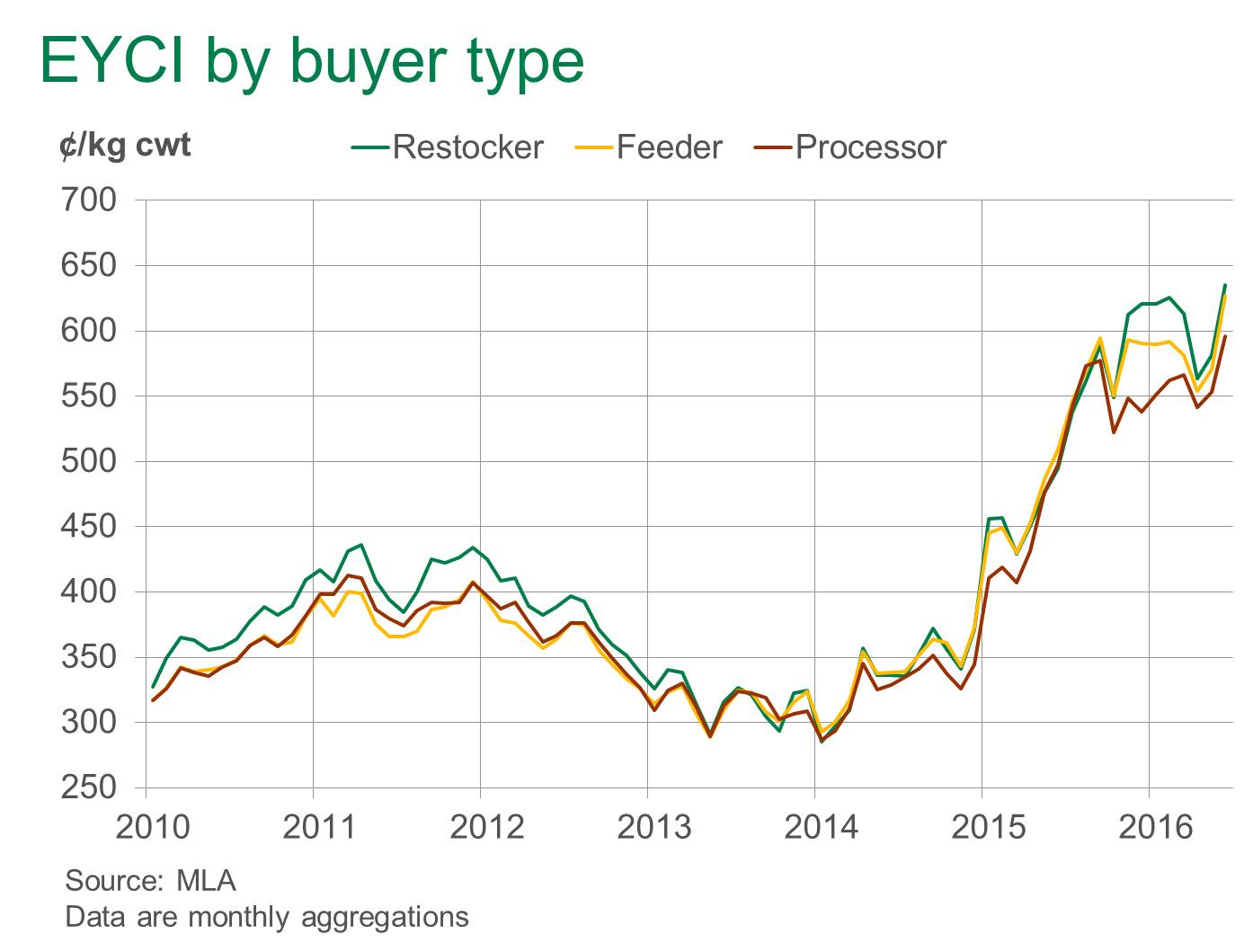 The recent rally, which started in early June, was underpinned by "above average" to "very much above average" rainfall across large swathes of Queensland, NSW and central Australia last month (BOM). In addition, the BOM have a wetter than average three month forecast for much of the country.
In particular, the recent rain fuelled confidence amongst restockers has led the price charge. Of the EYCI eligible cattle last week, restockers purchased 39% of them and paid, on average, 675¢/kg cwt (or a 16¢/kg cwt premium to the EYCI). In comparison:
Feedlots purchased 41% of the total and paid 661¢/kg cwt (2¢/kg cwt premium)
Processors purchased 20% of the total and paid 624¢/kg cwt (35¢/kg cwt discount)
It should be noted that many EYCI eligible cattle are in store condition, and not suitable for slaughter, and processors source the majority of cattle direct from producers and feedlots (processor purchase of the EYCI last week were just shy of 3,000 head while the eastern states slaughter was almost 127,000 head).
Both the historical buyer breakdown of EYCI eligible cattle and the premium (discount) of each main buyer group are outlined in the figures below.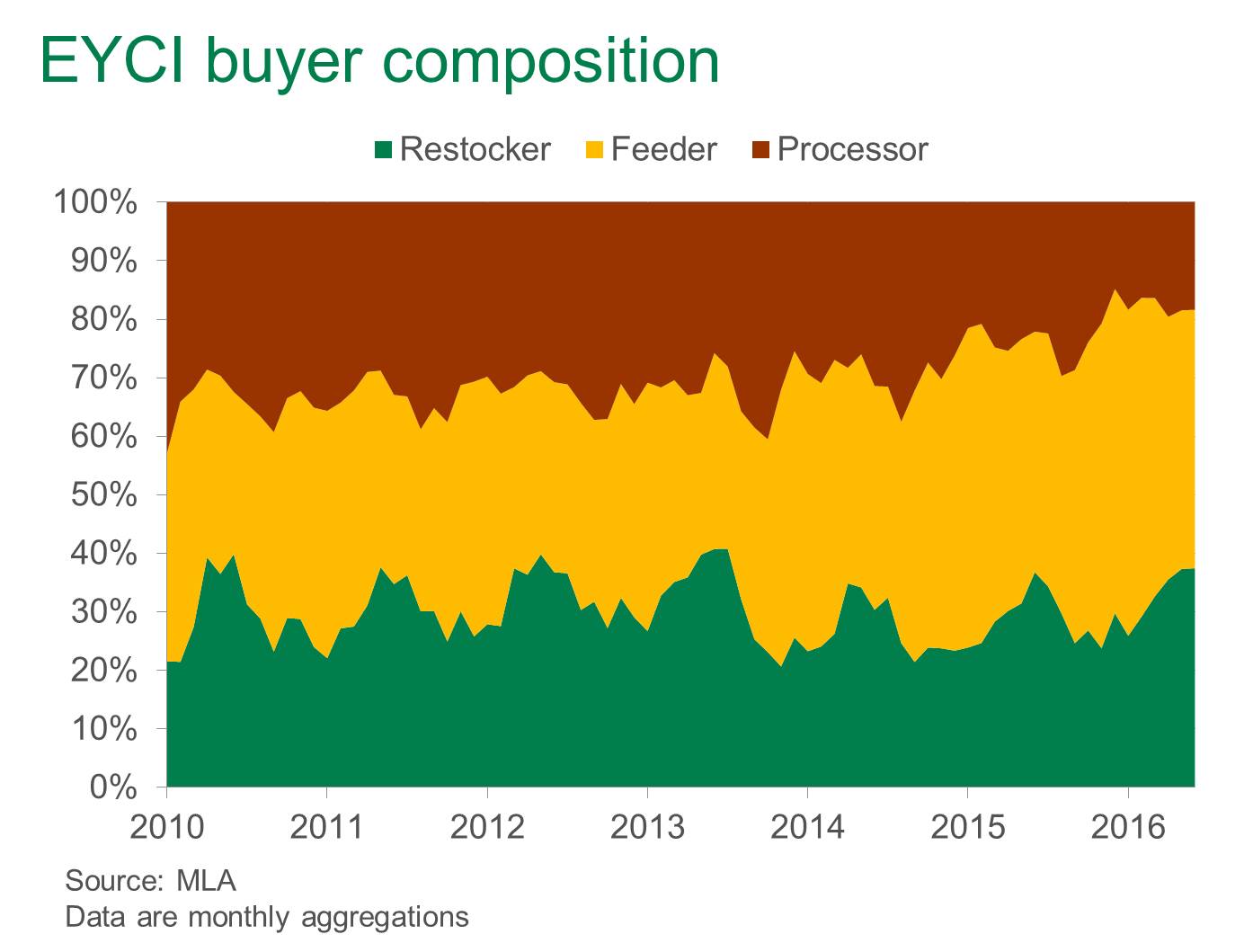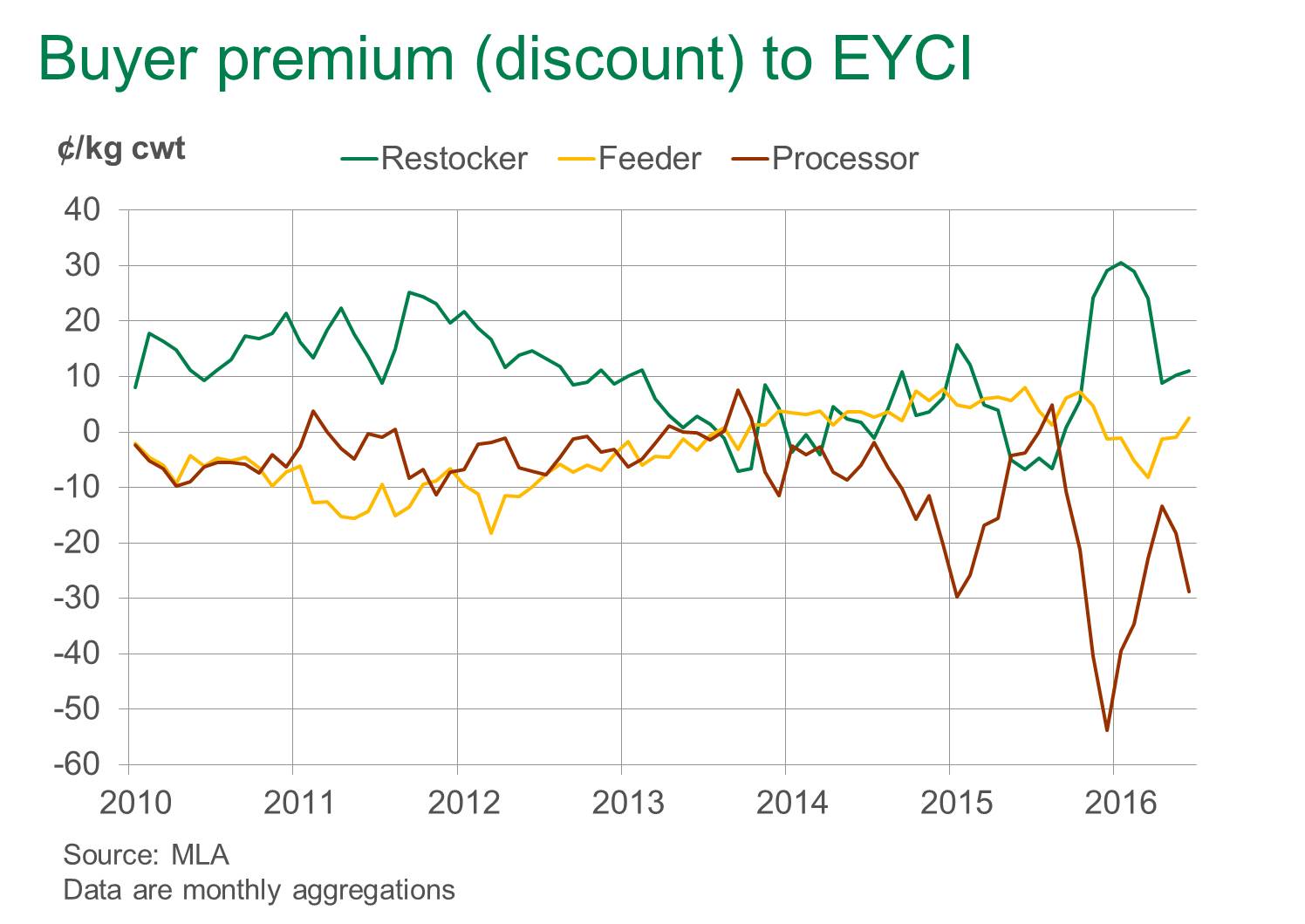 Of particular note:
2010 and 2011 was the last time the eastern states of Australia had "above average" rainfall for an extended period. In those years, restockers paid a 10-20¢/kg cwt premium to the EYCI and purchased 25-40% of eligible cattle. This scenario appears to have returned.
For the period 2010 to 2013 the buyer breakdown of the EYCI was fairly evenly distributed to one third each amongst the three main buyer types. However, since 2014, feedlots increasingly purchased higher volumes of EYCI cattle at the expense, primarily, of processors – although processor demand from saleyards was subdued due to the drought induced surge in cattle turned off during that time.
Feedlot buyers are the stalwart of the EYCI, making up the largest component of the indicator and rarely departing from within 10¢/kg cwt of the average. The need to manage a margin on each purchase, and over a fixed time horizon (mostly less than 100 days prior to realising a profit), explains less erratic prices over time, relative to other buyers.
Conversely, restocker purchases are much more volatile, reflecting changes in seasonal conditions to a greater extent but also the buyer's ability to spread the cost of cattle over a longer time frame and weight gain.
With a favourable seasonal outlook, it is likely restockers will continue to pay the strongest premium relative to the EYCI however feedlots will more than likely continue to be competitive and purchase significant numbers of suitable cattle.
What is the EYCI?
The EYCI includes vealer and yearling (C2-3 muscle/fat score) steers and heifers above 200kg at MLA reported saleyards in Victoria, NSW and Queensland, and accounts for a large portion of young cattle passing through east coast saleyards. As such, it can be considered as a broad level benchmark of the Australian cattle market. Given there is variation in the cattle included in the EYCI (categories, gender, fat scores and estimated dressing percentages) each sale is converted into an estimated carcase weight price to remove the volatility that would arise between varying condition types.
Join myMLA today
One username and password for key integrity and information Systems (LPA/NVD, NLIS, MSA & LDL).
A personalised online dashboard that provides news, weather, events and R&D tools relevant to you.
Customised market information and analysis.
Already registered for myMLA?