US imported beef prices ease as the market looks to next year
29 November 2017
A shortened trading week due to Thanksgiving sees US imported beef prices ease, as the market now shifts focus to how an increase in US beef supply next year will impact prices.
US imported beef prices continue to offer support on limited imports from both Australia and New Zealand
90CL beef indicator declined 3.5US¢ from week-ago levels, to 210US¢/lb. Cost, insurance and freight (CIF) down 10A¢, to 609.57A¢/kg
Fed cattle slaughter last week was 2.6% higher than the same period last year and US cattle slaughter is anticipated to remain above year ago levels through to the end of the year.
Supply Outlook
In October, US futures prices rallied as the market focused on the prospects of robust beef demand heading into 2018. This remains a fundamental factor to how the US beef market will play out next year, however in recent weeks the focus of the market has switched attention to the supply outlook.
As of the 1st November the number of US cattle on feed was 11.332 million head, 6.3% higher than a year ago - the largest cattle on feed inventory since December 2012. Supported by an increase in feedlot placements during September and October, this will bolster supplies heading into the US spring.
Furthermore, it is estimated that of the total number of cattle in US feedlots as at 1st November, over 3 million head had been on feed for more than 120 days – 2% higher than the same period last year.
While beef demand has been supported by foodservice and retail operators continuing to feature beef throughout the year, feedlots will have to contend with higher supplies of market ready cattle during February and March, when beef demand is traditionally at the lowest point. US feedlots will therefore need to aggressively market cattle, with downward pressure on prices likely to occur.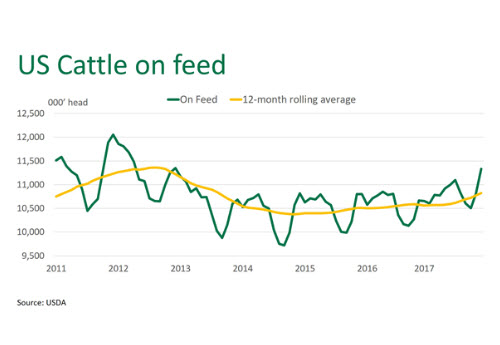 US Imported beef prices
US imported beef prices moved lower this week as a result of limited trading, with the annual Thanksgiving holiday creating a shorter trading week. In addition, US end users are now focused on securing product to cover holiday demand.
The imported 90CL beef indicator declined 3.5US¢ from week-ago levels, to 210US¢/lb. CIF tracked down 10A¢, to 609.57A¢/kg.
US cattle prices
Live cattle futures (April 2018 contract) are currently priced at a 6% premium to the spot market (November 2017), the margin has reduced in recent week as cash prices appear to have stabilised. It is not usually for this premium to occur ahead of the summer months as the market prices in peak-demand over grilling season.
However, futures contracts for the second half of 2018 (August 2018 contract) are below April pricing and closer to the current spot market.
Highlights from the week ending 24th November:
Beef in cold storage at the end of October was 5% less than a year ago but still as much as 10% above the five-year average
Click here to view Steiner Consulting US imported beef market weekly update
Join myMLA today
One username and password for key integrity and information Systems (LPA/NVD, NLIS, MSA & LDL).
A personalised online dashboard that provides news, weather, events and R&D tools relevant to you.
Customised market information and analysis.
Already registered for myMLA?