A$ trading at six-year low
30 July 2015
---
The A$ is at a six-year low, as illustrated in Figure 1, currently trading around 73US¢ (as of 30 July), with speculation that it could continue to approach 70US¢. In the latest RBA monetary policy meeting minutes, members commented that "further depreciation (of the A$) seemed both likely and necessary".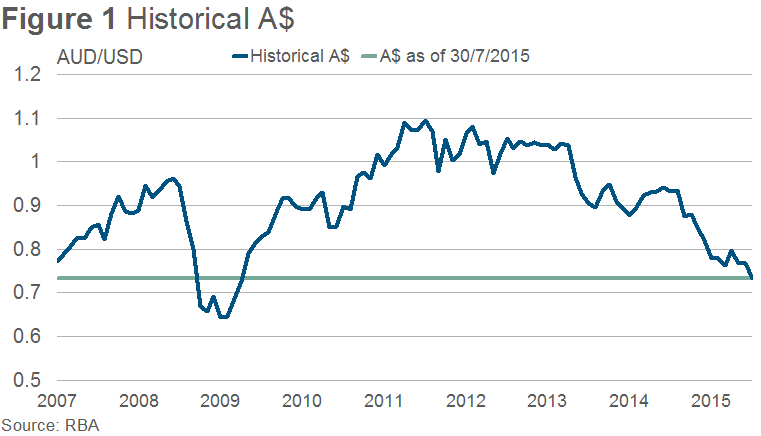 The rising greenback continues to be a major factor – particularly if the US Federal Reserve decides to raise interest rates again later in the year – combined with slowing growth in China and economic uncertainty in the Euro-zone.
Furthermore, should Australia's economic growth remain subdued, and the RBA decides that a further easing of monetary policy is necessary, an additional cut to interest rates could put further downward pressure on the A$.
Australian beef and veal exports for the first half of 2015 have surged, with shipments up 11% year-on-year, at 646,686 tonnes swt. Record turnoff and strong demand from the US, Japan and Korea have been key drivers, underpinned by the falling A$ making our exports more attractive to importers and ensuring any surplus supply has quickly been absorbed.
With a tightening of domestic supplies now evident in the weekly eastern states kill – cattle slaughter so far in July has averaged 3% lower year-on-year (NLRS) – it will be interesting to see how this plays out in the cattle market, given international demand, supported by the low A$, remains strong. Beef and veal exports in 2015 are forecast to move 2% above last year's record, to 1.32 million tonnes swt.
Join myMLA today
One username and password for key integrity and information Systems (LPA/NVD, NLIS, MSA & LDL).
A personalised online dashboard that provides news, weather, events and R&D tools relevant to you.
Customised market information and analysis.
Already registered for myMLA?