A co-operative approach to compliance
22 August 2018
On Farm Snapshot
| | |
| --- | --- |
| Name/s: | Lachlan and Kate James, and sons Stirling, 10, and Fraser, 8. |
| Location: | Gunnedah, NSW |
| Area: | 1,700ha |
| Enterprise: | Wallawong Premium Beef – Angus and Murray Grey seedstock |
| Livestock: | 220 seedstock breeders plus commercial herd (usually around 80 breeders but currently reduced to 25–30 because of ongoing drought) |
| Pastures: | Native and some tropical pastures and dual-purpose crops |
| Soils: | Sand to heavy black soils |
| Rainfall: | 580mm, but only 65mm received to August this year |
Lessons learned
Genetics, nutrition and management are the building blocks of compliance.
Aim for high-yielding cattle with high eating quality.
Industry relevance underpins producers' profitability and productivity.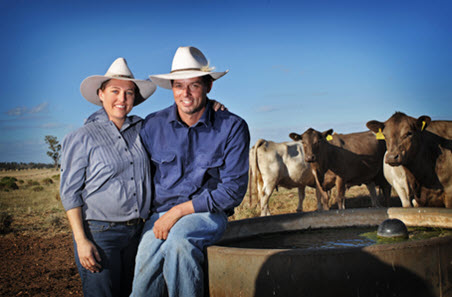 A co-operative approach to compliance
Lachlan and Kate James partnered with a commercial client, Heath Birchall, to present a category-winning pen of steers in this year's National Beef Carcase Competition at Beef Australia.
They credit carcase-oriented genetics and a rising plane of nutrition with achieving market compliance, including high Meat Standards Australia (MSA) Index scores for eating quality potential.
Lachlan said producing consistent cattle, which are relevant to industry, from conception to consumption, underpins producer profitability and productivity.
Their long-time client, Heath Birchall, bred the winning pen in the unrestricted feed, heavy trade class, with three Murray Grey steers sired by a Wallawong bull.
Heath runs 110 breeders on an 800ha cropping and beef enterprise near Tamworth.
He selected the sire (of the winning pen) for calving ease and an eye muscle area in the top 5% of the breed to aid Heath's goal of producing high-yielding cattle for the domestic supermarket trade.
Heath followed his usual practice of weaning on to early-sown oats in May. In July, the three steers were brought to the James' home property 'Marriot Park' for preparation in their on-farm feedlot.
"We partner with commercial clients to enter cattle in carcase competitions as a way to benchmark the industry relevance of our genetics and to show where cattle sit within target markets," Lachlan said.
While they are regulars in NSW carcase competitions, including the Sydney Royal, Wingham Beef Week and the Upper Hunter Beef Bonanza events, this was the first time Lachlan and Kate have been able to enter the national carcase competition following the addition of the heavy (260–340kg), unrestricted feed category.
"The opportunity to present grain-assisted steers reflects the production systems of many producers who do some supplementary feeding to finish cattle for the domestic supermarket trade," Lachlan said.
MSA compliance
Lachlan said preparation was important to maintain a rising plane of nutrition and reduce pre-slaughter stress to optimise eating quality.
The cattle were fed a barley-based ration (including barley straw, urea, bentonite and a beef mix supplement) for 120 days before being processed and graded in November at 16 months.
Pre-slaughter strategies include adding electrolytes to water 24 hours before transport to maintain muscle glycogen and minimise the chance of dark-cutting. Lachlan transported the steers himself to Bindaree Beef at Inverell.
Lachlan believes it is important to get the genetics right before adding the building blocks of feeding and management to create a superior product.
He aims to produce cattle that achieve an MSA Index of at least 60, which was demonstrated by the winning steers, which received MSA Index scores of 64.04, 62.27 and 61.54.
"However, a superior product doesn't just mean a good eating experience for the consumer, it also has to be profitable for the producer," Lachlan said.
"Increasing MSA eating quality will increase consumers' love of beef and bring them back, which benefits the industry but, as breeders, we also need to be mindful of producing a product which also has increased carcase yield."
More information
Email Lachlan James
Visit www.wallawong.com.au
Join myMLA today
One username and password for key integrity and information Systems (LPA/NVD, NLIS, MSA & LDL).
A personalised online dashboard that provides news, weather, events and R&D tools relevant to you.
Customised market information and analysis.
Already registered for myMLA?