A matter of taste
24 October 2018
NSW Angus breeders Ben and Wendy Mayne use carcase competitions to benchmark their genetics and management strategies against a range of breeds and production systems.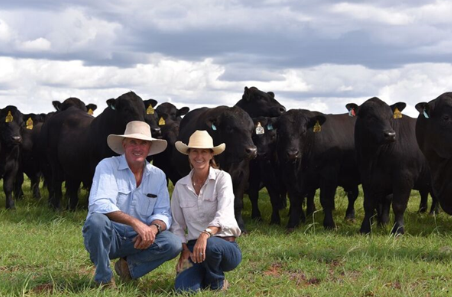 They believe improving soil and rumen health is an important factor behind the performance of their 'Texas Angus' steers in the 2018 National Beef Carcase Competition, supported by MLA and announced at this year's Beef Australia.
The Maynes won the largest class, the pen of three export chiller bullocks, grainfed, 300–420kg, which had 164 entries (492 carcases) – nearly half of all cattle entered in the competition.
"We entered 18 steers and they all placed in the top 50, which tells us we are right where we want to be – producing cattle that meet market specifications," Ben said.
Their success at Beef Australia was supported by the performance of steers from the same line in last year's Sydney Royal Beef Challenge where, as well as championship sashes, the Maynes won the taste test component.
"We believe it's important to look at the whole picture of breeding cattle, from farm to plate," Wendy said.
"It is our duty to breed animals which not only deliver on producers' requirements for profitability and market compliance, but meet consumer expectations of a positive eating experience.
"When people buy beef, they expect to get consistent quality and value – if they don't, they will choose other proteins and the whole beef industry misses out."
Commercial focus
Although they are seedstock producers, the Maynes run their 600 breeders under commercial conditions.
Two-thirds of the herd calves in spring and the rest in autumn to meet market requirements, giving producers in marginal areas access to younger bulls which have time to adapt to their environment before joining.
Balance is an essential criteria for genetic selection in the Texas Angus herd.
"If you select too hard for one trait, you can jeopardise others, so we take a balanced approach to breed animals that reach performance targets, have favourable carcase quality traits, and can perform in their environment," Ben said.
In the paddock
Ben and Wendy back up their genetic focus with a double-pronged approach to soil and animal health.
They have spent the past 13 years improving pastures by focusing on what happens underground.
"We moved away from chemical-based production and use organic fertilisers to improve soil health, build up micro-organisms and increase soil carbon levels," Ben said.
The results include improved water quality in dams (by removing nitrate fertiliser run-off), more productive pastures and the ability to produce more beef per hectare, nearly doubling their carrying capacity to one breeding cow unit per 4ha.
"We're taking a similar approach with our cattle, by feeding out probiotics and natural supplements to improve the health of micro-organisms in their gut," Ben said.
The Maynes believe healthy rumens, as well as their genetic lines, gave their competition steers a head start before going onto a 100-day program at Wilga Feedlot at Bellata, after which they were processed at Kilcoy Pastoral Company, Queensland, in January 2018.
The winning pen of milk tooth steers had hot carcase weights of 377kg, 380kg and 403kg, and all had a Meat Standards Australia (MSA) Index above 63.
It was the first time the Maynes had entered a grainfed carcase class, and they used it to benchmark how their grass-based beef production system could expand to meet the grainfed export trade without compromising carcase quality.
"We will take this feedback and analyse it, and incorporate it into our breeding program to identify sire and maternal lines which produce steers with high yield and eating quality traits," Ben said.
More information:
Join myMLA today
One username and password for key integrity and information Systems (LPA/NVD, NLIS, MSA & LDL).
A personalised online dashboard that provides news, weather, events and R&D tools relevant to you.
Customised market information and analysis.
Already registered for myMLA?