Back to

Prices & Markets
Subscribe to Prices & Markets e-newsletter
For in-depth red meat market news, information and analysis.
SIGN UP
A remarkable year - 2019 sheep market wrap
12 December 2019
Key points:
Trade lamb prices opened at 670¢/kg cwt, fluctuated between 626¢/kg and 950¢/kg, before settling at 696¢/kg as at 6 December
The top lamb price in terms of dollars per head was $355 at Forbes saleyards on the 16th of July. Wagga, Ballarat and Tamworth saleyards also sold lambs in excess of $350/head
The national mutton indicator kicked off the year at 350¢/kg cwt. Since then it has been up and up, peaking at 612¢/kg in July before settling to 572¢/kg as at 6 December
Weekly lamb slaughter topped at 473,000 head with a low of 280,000 head, averaging 380,000 head per week, 5% less than 2018
National mutton slaughter has followed a similar trend with a low in winter of 64,000 head and a high of 221,000 head for the week ending 6 December, averaging 3% less than 2018
Weekly lamb yardings fluctuated between 44,000 head for a shortened week in April and 239,000 head for the week ending 6 December. An average of 173,000 head per week was 9% lower than 2018.
2019 has been a year unlike any other for sheep producers. Coming out of a very difficult season in 2018 there was a sense of expectation for what would unfold.
Here we examine the highs and lows of the past 12 months.
Markets
The prices received for lambs in 2019 have been quite remarkable, after opening the year with trade lambs at 670¢/kg cwt, heavy lambs 656¢/kg cwt and restocker lambs making 645¢/kg cwt, the year looks to be finishing stronger with the three main indicators between 696¢/kg and 746¢/kg cwt.
Despite the relatively small change at the end of the year, the path taken to get there has been anything but smooth sailing. In the previous 10 years, the trade lamb indicator on average fluctuated 44¢ above or below the average price for the year. In 2019 the fluctuations were nearly double that, with a standard deviation of 87¢.
Despite the high level of movement in the indicator, it was not as difficult to predict what prices would do. With over a third of the nation's sheep flock in NSW, the state that experienced the worst conditions, it stands to reason there was a shortage during NSW's normal supply period, being the winter months.
As the supply of lambs available began to dwindle in late autumn, particularly heavy lambs suitable for the export market, prices unsurprisingly increased. By late May, the trade lamb indicator had surpassed the record it reached the year before, rising to 878¢/kg. Since then the trade lamb indicator hit its peak at 950¢/kg, heavy lambs reached 998¢/kg and restocker lambs topped out at 884¢, all in mid-July with the top price for all lambs $355/head at Forbes saleyards.
Mutton prices have been the big surprise for 2019. After opening the year at 350¢/kg cwt, the mutton indicator didn't look back, moving above 500¢/kg in April and staying there, with a peak of 612¢/kg in July.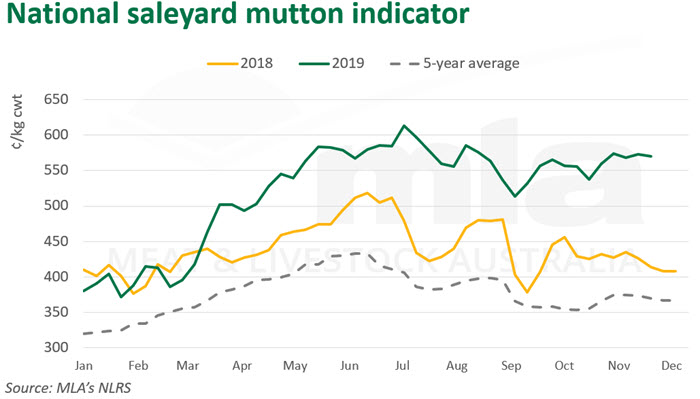 Slaughter
National weekly lamb slaughter has experienced its own ups and downs in 2019. After starting the year strongly, matching the previous three years, supply, and with it slaughter, eased through winter, to a low of 280,000 in July.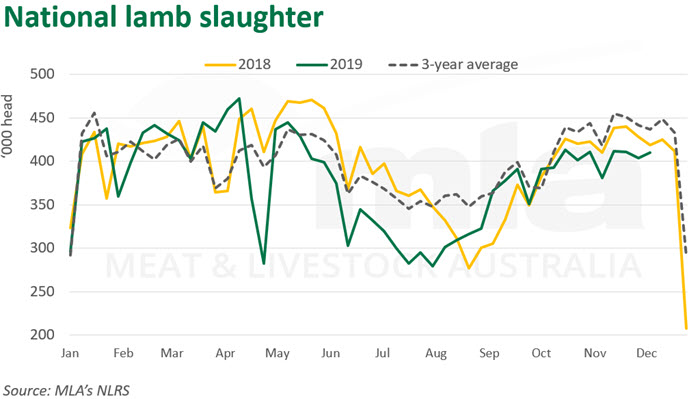 While numbers have rallied towards the back end of the year, supply has remained tighter than it has been in the last three years. The shortage in the back end of 2020 has drawn the average weekly lamb slaughter to 5% back on average since 2016.
Mutton slaughter followed a similar trend to lamb, with a significant shortage during winter, before climbing back to a more normal level of supply as lambs began to be weaned from July onwards with the highest weekly slaughter for the year coming in the week ending 6 December. The average weekly slaughter of 152,000 head is back 3% on 2018.
Yardings
Saleyards saw relatively strong supply in 2019 with the record prices being received a good incentive for producers to put their livestock through that system. This hasn't been reflected in the numbers, with the average weekly lamb yarding of 173,000 head down 9% from last year. The biggest yarding for the 2019 was for the week ending 6 December, with 239,000 head.
NSW saleyards have accounted for 55% of supply, while Victoria has made up 28% and WA and SA have both contributed 8% of lambs.
Mutton yardings in 2019 were quite stable from 2018, easing by 3% to average 94,000 head per week.
© Meat & Livestock Australia Limited, 2019