African Swine Fever may compound already-strong red meat demand in China
05 December 2018
As previously reported, China has been the leading growth market for Australian beef and sheepmeat exports – as has been the case for other major exporters in 2018.
At the core of this strong import growth is a swelling class of consumers that can afford to eat an increased volume and quality of red meat, along with the inability of the domestic industry to meet this demand, particularly for meat of the highest quality and food safety standards.
Over the past 12 months ending October, Australian beef and sheepmeat exports to China had increased 53% and 47% respectively (in contrast, total exports to all markets had increased 10% and 13% for the respective proteins). Meanwhile, beef exports from Brazil, Argentina and Uruguay increased 47%, 112% and 10% respectively over the 12 months ending September (Uruguay recorded weaker growth as it has approached supply constraints).
New Zealand beef and sheepmeat exports to China also both increased 35% over the 12 months to October. Shipments from North America to China remain limited due to China's strict ban on beef treated with HGPs, while the US-China beef trade, still in its infancy, has been caught in the cross hairs of the unfolding trade war.
African Swine Fever continues to spread
African Swine Fever (ASF) has continued to spread since the highly infectious disease was first confirmed in Liaoning province in early August 2018. As highlighted below, it's now been recorded across most major pork producing regions. While the speed of spread may have slowed, following restrictions on moving pigs out of infected regions, the full eradication of the disease in an industry made up of 26 million small-scale farmers, presents a monumental challenge for the Chinese government. As at 22 November, it was estimated around 600,000 pigs had been culled through eradication programs.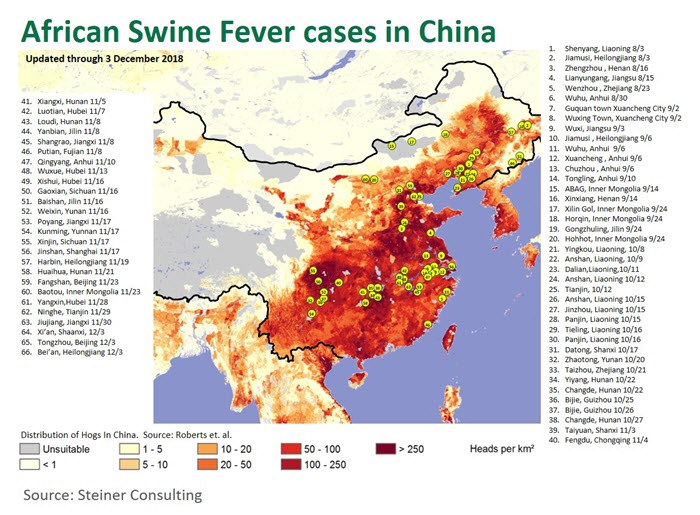 Given the timing of the ASF outbreak, it's unlikely to be a driver of the growth in the aforementioned beef and sheepmeat trade throughout 2018. For instance, pork imports, where the market would first react, have failed to significantly increase. In reality, Brazil regaining access to China in 2015 and Argentina liberalising exports in 2016 have played a far greater role in supporting growth of China beef imports to-date.
However, if the disease continues to spread and culling puts a large enough dent in production, or confidence is rattled enough for some to reduce domestic pork consumption, there will be increased demand for imported meat protein. Crunch time will be the upcoming peak consumption period of the New Year and Spring Festival holidays in February.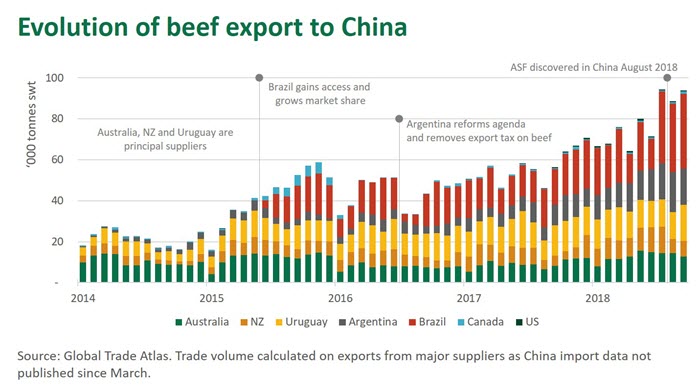 Given price points and ability to substitute, pork shortfalls will likely be first reflected in the poultry and imported pork markets. So far in 2018, wholesale pork and poultry prices have averaged 22.32RMB/kg and 19.05RMB/kg, respectively, while beef and sheepmeat have averaged 64.81RMB/kg and 61.70RMB/kg (Source: Ministry of Agriculture, PRC). However, while the strongest waves will be felt in the pork and poultry markets, if the impact is big enough it will have ripple effects for beef and sheepmeat (and ripples in the world's largest imported meat market can feel much larger for smaller players on the sideline).
The imported beef market in China has increased more than three-fold in four years (sheepmeat has recorded similar growth when compared over a seven-year period) due to underlying demand fundamentals that may slow but are not expected to reverse. While the magnitude, duration and impact of the outbreak is still unclear, ASF may only add further fuel to this growth.
Join myMLA today
One username and password for key integrity and information Systems (LPA/NVD, NLIS, MSA & LDL).
A personalised online dashboard that provides news, weather, events and R&D tools relevant to you.
Customised market information and analysis.
Already registered for myMLA?