Australia's advantage as US lamb production declines
28 February 2018
Australian producers are well-positioned to capitalise on an increasing demand for imported lamb in the US.
Key points
US lamb production is in long-term decline, as reliance on imports increases.
US wholesale lamb prices remain above year-ago levels, although below the mid-2017 peak.
Australia's share of imports is on the rise, while New Zealand's share falls.
An increasing reliance on imported lamb in the US, combined with a production shortage in New Zealand, puts Australian lamb in the sweet spot in the lead-up to the high-demand Easter period.
In the last 20 years, the US sheep breeding flock has declined by 1.78 million head, or 32%, to 3.83 million head. The estimated US lamb crop for 2017 was 3.2 million head, representing a fall of 50,000 head since 2016. The fall continues the long-term trend of declining production, which is expected to continue in 2018.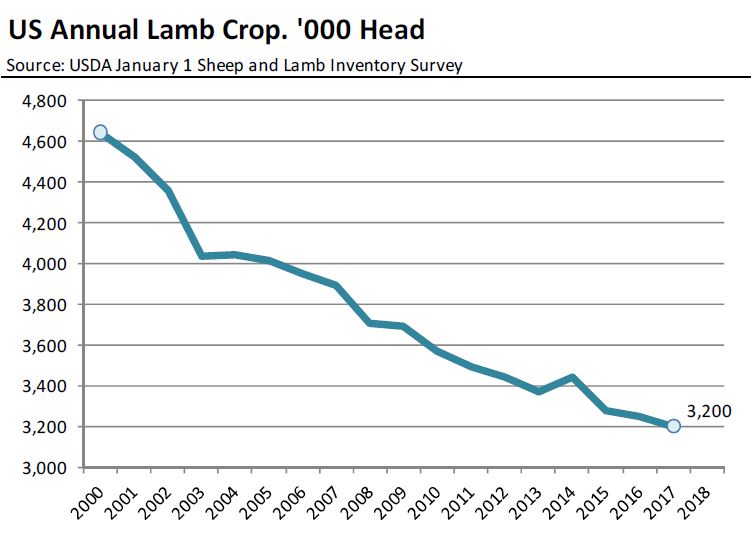 Australian lamb accounted for 77% of US imports in 2017, while New Zealand had a 23% market share. Though year-to-date imports are steady, Australia is stretching ahead of New Zealand imports. As of 9 February, Australian imports were up 9.5%, while imports from New Zealand were down 25%.
Imports contribute roughly 60% of total lamb consumption in the US, driven by increased availability and a consumer preference for imported product. The Easter holiday marks a traditional spike in retailer marketing and higher consumer demand for lamb in the US. This year, Steiner expect lamb merchandising to be similar to 2016, as Easter falls on 1 April.
Prices for imported lamb from Australia and New Zealand are up compared to this time last year. For the week ending 12 February, large Australian lamb racks (cap off) were up 18.6%, to US$9.84/lb, while smaller racks were up 31% on last year. The US Department of Agriculture's Mandatory Price Reporting System lamb cut-out value peaked in the US midway through 2017, and has since been in steady decline – in part due to the seasonal increase in heavy lambs hitting the market in Australia and, more recently, a seasonal pick-up in US slaughter lamb supplies.
New Zealand slaughter poised to fall, with Australia set to fill the void
A media release from Beef + Lamb New Zealand last week stated above average December quarter slaughter has resulted in fewer available sheep and lambs available for processing in New Zealand in the new year.
Recent Australian sheep and lamb slaughter, on the other hand, is comparable to year-ago levels. Higher Australian production relative to New Zealand is reflected in US import figures, with Australia well-positioned to take advantage of the upcoming Easter holiday period.
Growing appetite for lamb in the US
Lamb remains a niche and 'unfamiliar' protein to almost 40% of US consumers, driven by the lack of familiarity, taste concerns and limited knowledge on how to prepare it. However, US consumers are progressively increasing their willingness to try lamb, particularly the millennial generation.
Australia, as the dominant supplier to the US, is currently benefiting from the strong growth in demand for lamb in fast food and casual dining. This is driven by changing demographics, a strong US economy supporting a growing foodservice channel and a shift in demand for more convenient and affordable lamb options such as lamb burgers, meatballs and kebabs.
MLA is working with the US-based Steiner Consulting Group to provide a monthly report on the US lamb market, including domestic production trends, prices and imports. Read the report here.
Read the US Sheepmeat snapshot for more information on the opportunities and challenges for the industry.
Join myMLA today
One username and password for key integrity and information Systems (LPA/NVD, NLIS, MSA & LDL).
A personalised online dashboard that provides news, weather, events and R&D tools relevant to you.
Customised market information and analysis.
Already registered for myMLA?