Beef export value declines as volumes contract
25 August 2016
Australian beef exports for June 2016 were valued at $694.26 million FOB, taking the 2015-16 total to $8.5 billion – the second highest fiscal year on record (ABS).
Despite the volume of Australian beef shipments for 2015-16 (1.2 million tonnes swt) declining 13% year-on-year, as a result of reduced domestic supply and increasing US beef production, the total value decreased to a lesser extent – 6% lower than the record high ($9.05 billion) the previous year (DAWR).
Lower value frozen beef volumes fell 16% year-on-year, to 861,275 tonnes swt, while chilled volumes decreased 6%, to 309,762 tonnes swt. As a result, the proportion of higher valued chilled beef exports increased from 24% in 2014-15 to 26% in 2015-16.
Supporting Australia's competitive position in the global market and somewhat offsetting the fall in overall beef export volumes was the lower Australian dollar, which averaged 73US¢ for 2015-16, back 13% year-on-year and 24% lower than the five-year average (96US¢).
The beef export unit value ($/kg) for 2015-16 averaged $7.09/kg, up 8% from year-ago levels and 36% higher than the five-year average ($5.20/kg). This rise was predominantly driven by chilled beef unit values which increased considerably (17%) year-on-year, to $10.69/kg, while frozen unit values lifted marginally (1%) to $5.82/kg.
For 2015-16, compared to the previous year, the value of Australian beef exports to;
The US was $2.5 billion, down 23% from 2014-15. Volumes decreased 29% to 335,503 tonnes swt, with frozen product recording the greatest decline. On the other hand, the average export unit value to the US lifted 7%, to $7.38/kg.
Japan eased 3%, to $1.8 billion, despite exports dropping 12% year-on-year, with frozen product accounting for the majority of the decline. Helping to offset the lower volumes, the average beef export unit value to Japan lifted 8%, to $6.86/kg.
Korea lifted 24% year-on-year, to $1.3 billion, underpinned by an 11% increase in volume and an 8% jump in the average unit value, to $6.99/kg.
China increased 14% to $867 million. Export volumes to China increased 3%, to 128,083 tonnes swt, with chilled shipments up 21% to 7,424 tonnes swt, and frozen shipments up 2% to 120,660 tonnes swt. With the growth in higher value chilled exports, the unit value to China averaged $6.65/kg for 2015-16, up 14% from the 2014-15 average ($5.81/kg).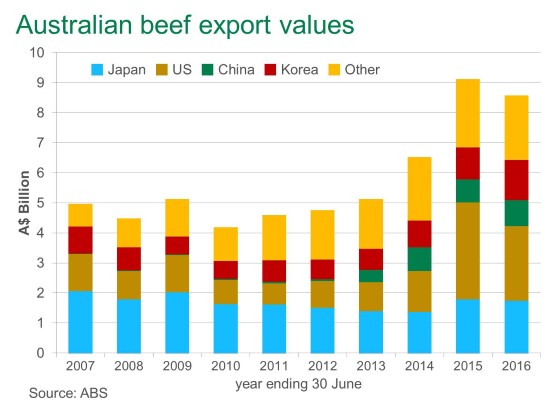 Australian beef exports for the remainder of the year are forecast to continue to recede with production, with the 2016 total projected to decline 20% year-on-year, to just over 1 million tonnes swt – although this will still be the fourth highest calendar year volume on record. Despite lower supplies and increased competition the US, the positive rainfall outlook for spring as well as expectations that the A$ will remain in the low to mid-70¢ range this year, are likely to continue providing support for export returns. Beef shipments are anticipated to contract with production again in 2017, before building back up over 1 million tonnes swt out to 2021.
Note: all values are in A$ FOB
Join myMLA today
One username and password for key integrity and information Systems (LPA/NVD, NLIS, MSA & LDL).
A personalised online dashboard that provides news, weather, events and R&D tools relevant to you.
Customised market information and analysis.
Already registered for myMLA?