Beef export values trend lower as supply tightens
26 July 2016
In May, Australian beef export values declined 18% on the year-prior, reaching just over $717.5 million for the month – driven by lower shipments to both the US and China (Global Trade Atlas), and declines in global meat prices (see article on FAO food price index movements here).
2016 year-to-date (January to May) beef shipments have generated just over $3.02 billion, 18% lower than the same time last year, but 27% greater than the five-year average over the corresponding time period ($2.38 billion).
So far this year, compared to the same time last year, export values to:
the US declined 35% - at $840.1 million
Japan declined 12% - to $653.2 million
South Korea increased 17% - at $512.4 million
China declined 29% - at $257.3 million
Indonesia increased 57% - to 142.5 million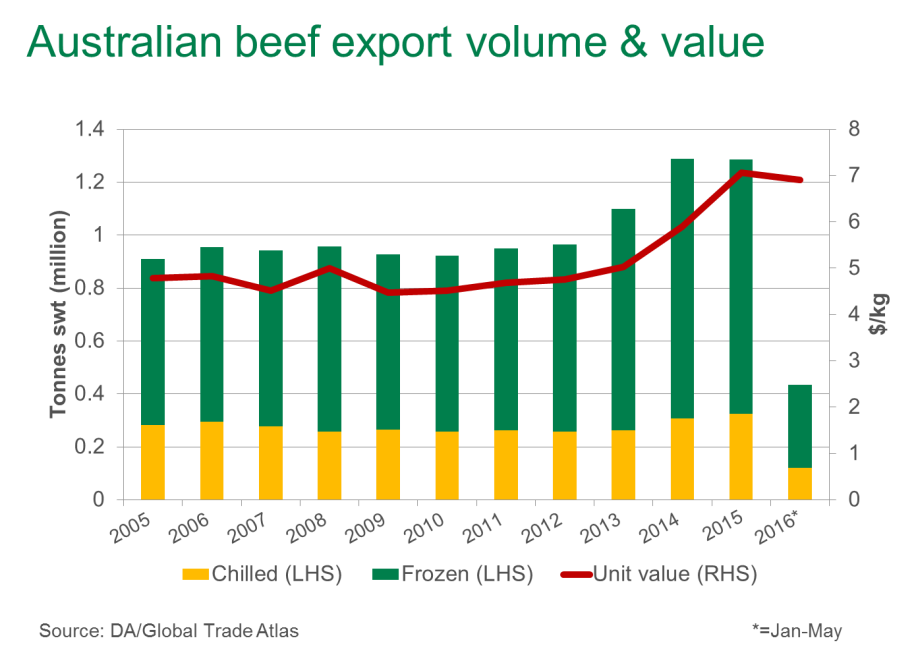 Highlighted in the latest update to MLA's Cattle Industry Projections (click here), beef export volumes are expected ease to just over 1 million tonnes in 2016 (down 20% year-on-year) – largely driven by lower beef production, and with a small influence from a stronger than anticipated A$ so far this year (0.74US¢).
As shown in the chart above, the average unit price of Australia's beef exports has declined slightly in 2016. This is largely due to a slowing of the extremely strong demand for Australian beef in export markets during 2014 and 2015. Further downward adjustments in export prices are expected to occur in 2016 and 2017, with major overseas competitors, including the US, Brazil and India, producing and exporting more beef..
The Australian cattle market is expected to remain buoyant as a result of a further tightening in slaughter now forecast in 2016 (7.4 million head – down 18%) – with the latest rainfall outlook also bolstering producer confidence in the ability to feed and water stock through the coming seasons.
Join myMLA today
One username and password for key integrity and information Systems (LPA/NVD, NLIS, MSA & LDL).
A personalised online dashboard that provides news, weather, events and R&D tools relevant to you.
Customised market information and analysis.
Already registered for myMLA?