Back to

Prices & Markets
Subscribe to Prices & Markets e-newsletter
For in-depth red meat market news, information and analysis.
SIGN UP
Beef roads lead to China
31 October 2018
The amount of beef headed into China this year is staggering. In the space of six years, China has transformed from a minor buyer of beef to a global importing powerhouse – second only to the US imported beef market, which is underpinned by the free movement of beef across North America under NAFTA (now rebadged the USMCA). In terms of global intercontinental trade, many roads have pivoted to China.
The Australian beef industry has been a beneficiary of China's expansion this year, with an increase of low and high value cuts shipped to the market. Australian manufacturing exports to China doubled in the first nine months of 2018, while premium chilled and grainfed shipments increased by a similar magnitude.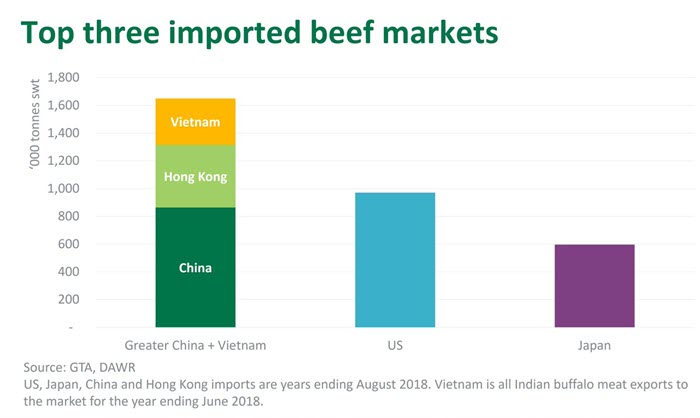 China hasn't published import statistics since March, but assessing the volume sent by each major supplier indicates the market has expanded 46% in the first eight months of 2018.
China is now the single largest export market for beef from Brazil, Argentina and Uruguay, and a major buyer of product from New Zealand (second) and Australia (fourth). South American suppliers have made the pivot in the last three years as traditional markets – such as Russia, the Middle East and Venezuela – have presented troubles of one form or another. In contrast, New Zealand and Australia have been in the market since it first expanded in 2013.
Despite trade wars and some signs of the economy slowing, China has had a significant impact on the global beef market. The expansion of beef imports reflects demand from a growing class of urban consumers that can afford it and the economy's transition from being investment to consumption-led.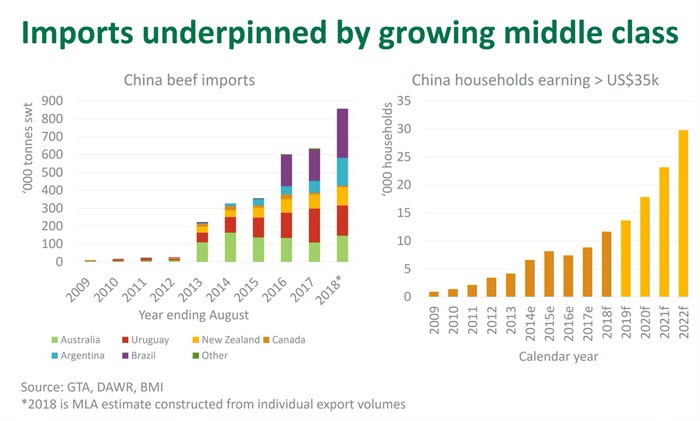 Hong Kong has also expanded imports over the last year, indicating growth to Greater China is more than a re-direction of trade. While Indian buffalo exports to neighbouring Vietnam have eased, it has been nowhere near enough to offset growth in the wider region.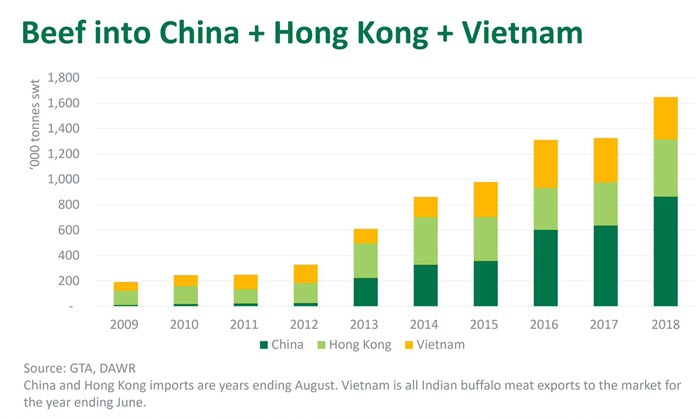 Where could it end?
While China is expected to continue to expand, it is unlikely the pace of growth recorded in 2018 can be sustained (from a supply or demand perspective). There are also other forces possibly at play this year. A government crackdown on shadow bank financing may be leaving some domestic processors short of credit, leading to additional import requirements. Meanwhile, the surge in trade has also coincided with the emergence and spread of African Swine Fever cases across the country, potentially leading some to cover protein shortfalls – current or anticipated – with beef, as well as imported pork and poultry. As of 23 October, 35 cases had been reported across China, with the virus moving south-west into Yunnan and Hunan provinces.
Furthermore, while China imports have consistently grown since 2012, there are a range of inherent risks in the market. Firstly, across all proteins, imports account for a minor component of consumption (7.8% for beef according to 2017 FAO data). Just as small falls in local production can see a surge in demand for imports, a small recovery can have the opposite effect.
Lastly, the Chinese economy has slowed in recent quarters, compounded but an escalating trade war with the US that shows no sign of resolution. In the September quarter, real GDP grew by just 6.5% year-on-year – the lowest level since the Global Financial Crisis of 2007. Given exports to China have ridden the wave of a growing middle class, a slowdown or reversal could see the imported beef market cool-off or even contract.