Brazilian beef granted access to the US
02 August 2016
The USA this week granted access for fresh and frozen Brazilian beef, following the determination that their animal health and food safety protocols meet equivalence with US standards. Brazil has sought access to the US market for 20 years, but until now has been blocked due to Foot and Mouth Disease (FMD) and Bovine Spongiform Encephalopathy (BSE) concerns.
What does the decision mean?
Unlike Australia, Canada, NZ, Mexico, Uruguay, Japan and Argentina (currently excluded from the market due to FMD), Brazil does not have its own country-specific quota for beef exports to the US. It will compete for access under the 'Other Countries' quota, currently totalling 64,805 tonnes. This quota is also accessed by countries such as Nicaragua, Honduras, Costa Rica and Ireland, and has not been fully subscribed in previous years.
Brazilian plants will need to demonstrate a commercially-acceptable lotting system for maintaining the independence and traceability of lots tested for E. coli. With subdued demand for imported beef in the USA this year, and the quota restrictions, these elements suggest volumes of Brazilian beef shipped to the USA over the remainder of 2016 will be modest. Brazilian authorities estimate 2017 will see up to US$400 million worth of Brazilian beef exports to the market.
The implications
While in the short-term exports are expected to be minimal, it is too early to speculate on the market impact of fresh and frozen Brazilian beef exports to the US market given the multitude of factors including Brazilian beef prices, US beef prices, currency movements, market demand and quota access. However from 2017 onwards Brazil expects to be a low-cost competitor to those countries, such as Australia, supplying lean manufacturing beef for further processing, including hamburgers, into the USA.
Depending on the relative impacts of Brazilian production levels, exports to other markets, US beef production, and currency movements, Brazil could ship product to the US out-of-quota, despite the 26.4% tariff. Uruguay has demonstrated this is feasible in the past, shipping more than their 20,000 tonne quota at times. However, with increased access into markets such as China and Saudi Arabia, it is not clear how much Brazil will seek to supply in addition to the ceiling placed by the 'Other Countries' quota allocation of 64,805 tonnes.
The countries most significantly and immediately challenged in terms of quota access will be those currently supplying under the 'Other Countries' quota, including Nicaragua and Ireland, although the former does have the potential to access additional amounts under Central American Free Trade Agreement (CAFTA), should the 'Other Countries' allocation be filled.
MLA's trade communication, business development, and brand building activities over many years in the US will continue to keep Australia's strong import position in good stead. Our focus on differentiating Australian product on the basis of provenance, food safety and quality assurance systems, traceability, meat quality, and sustainability will continue.
Australia and the US
Other than Canada and Mexico, which have free access under NAFTA, Australia maintains preferential access over all import competitors with an allocation totalling 418,214 tonnes in 2016. This comprises the WTO tariff rate quota (TRQ) of 378,214 and an additional 40,000 tonnes under the AUS/USA Free Trade Agreement which commenced in 2005. Under this agreement, Australia will effectively have free access to the US market from 2023 under the FTA when out-of-quota tariffs go to 0%.
Following two strong years of exports to the USA in 2014 and 2015, Australian exports are down 36% for the first six months of 2016, in line with reduced Australian beef production and increased US domestic beef production and lower prices.
However, Australia has increased its exports of chilled grassfed beef (as a proportion of total beef exports to the US) in 2016 to 20%, up from 17% in 2014 and 2015. This comes as a result of the dominant position we've carved out in the premium grassfed beef market in the US, boosted by collaborative and generic marketing of Australian grassfed beef by exporters, importers and MLA. Brazil is unlikely to be a meaningful competitor in this segment in the short term, due to Australia's existing trade and end user relationships, and quality and perception issues.
The table below illustrates the different quota and duty parameters for a selection of countries.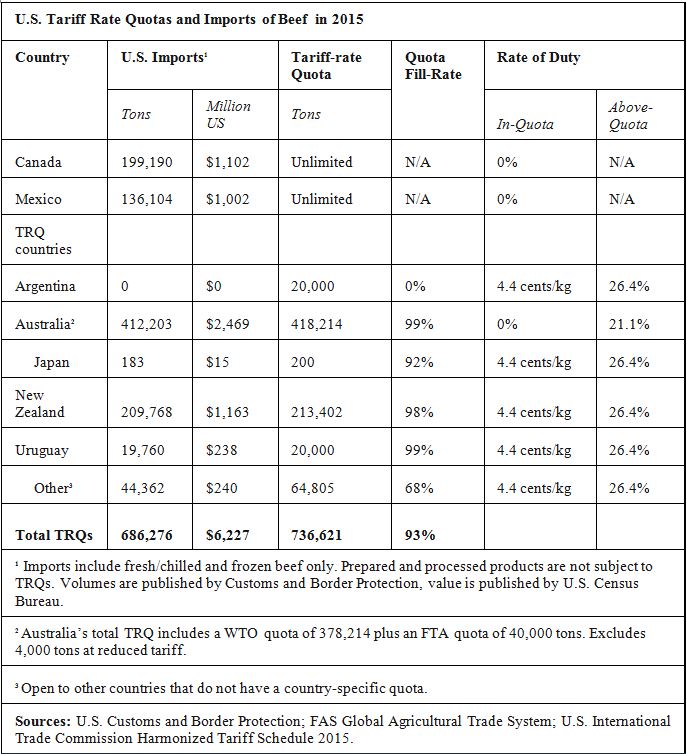 Join myMLA today
One username and password for key integrity and information Systems (LPA/NVD, NLIS, MSA & LDL).
A personalised online dashboard that provides news, weather, events and R&D tools relevant to you.
Customised market information and analysis.
Already registered for myMLA?