Brazilian beef set to increase its presence in Asia and the Middle East
01 November 2017
The Brazilian beef industry is in the midst of a challenging year. Slow economic growth, restricted market access, the "weak meat" scandal in late March and more recently corruption involving JBS, the country's largest meat processing company, all contributing factors.
Despite this, Brazil remains a major beef exporter, alongside the US, India and Australia. Brazilian beef production and exports are set to grow in the coming years. Increased production, coupled with a limited growth in domestic beef consumption, is likely to result in a higher volume of beef exports and an increased presence in some of Australia's exports markets in Asia and the Middle East.
The Brazilian cattle herd appears to be coming out of its retention period phase, with female slaughter registering an increase this year and production forecast to be higher by the end of 2017
In Brazilian Real terms, cattle prices declined by 11% for January - August 2017, with the São Paulo steer indicator averaging R4.56kg live weight (approximately US$ 1.44kg). The devaluation of the Brazilian Real has kept prices in US dollars steady year-on-year
In the long term, Brazilian beef production is forecast to increase on average 2.6% annually through to 2021. Meanwhile, domestic consumption is expected to recover slightly but at a slower pace compared to production.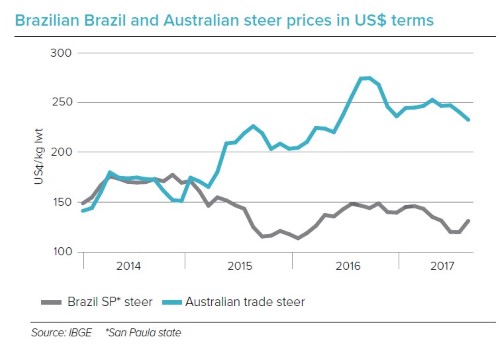 With Russia and Venezuela considerably reducing their market share of Brazilian beef exports, Brazil has established new destinations, with a greater focus in Asia (Hong Kong, China, Philippines, Singapore) and the Middle East (Saudi Arabia, UAE).
China has grown to become the second largest destination for Brazilian beef, with 100% of volumes compromised of frozen product, satisfying demand in commodity trading beef. Since regaining market access in Saudi Arabia (late 2015), Brazilian beef exports have consistently grown. Unlike China, exports to Saudi Arabia are comprised of both chilled (23%) and frozen (77%) products.
Although fresh beef shipments represent a small share of total exports for Brazil (13%), it has increased over the last two years, with Chile, the EU and the Middle East now the main destinations.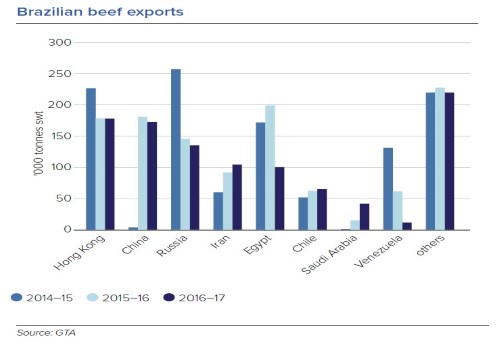 Market access and sanitary status remain Brazil's major obstacles to increase its presence in global markets, particularly in Australia's key export markets (where Brazil currently doesn't have access) such as Japan, Korea, the US and Indonesia.
Brazil's and Australia's common markets in Asia and the Middle East, 2016-17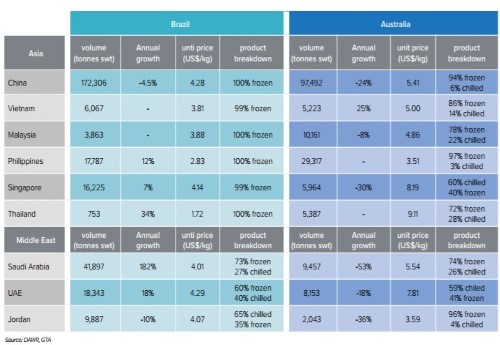 For more information on the Brazilian beef industry click here
Join myMLA today
One username and password for key integrity and information Systems (LPA/NVD, NLIS, MSA & LDL).
A personalised online dashboard that provides news, weather, events and R&D tools relevant to you.
Customised market information and analysis.
Already registered for myMLA?