Carcase weights lift despite increase in female slaughter
14 March 2018
In contrast to the recent rain, producers in Queensland have had to manage another challenging summer, which has seen more female cattle heading to slaughter in January.
Key points
Compared to 2017, January slaughter was 15% higher and beef production up 18%.
There has been an increase in female slaughter, although late seasonal rain may reverse this trend in the coming months.
The national average carcase weight was 302kg in January despite the lift in female kill, with more cattle being finished on grain.
Slaughter increase led by Queensland
According to Australian Bureau of Statistics (ABS) data, January cattle slaughter totalled 541,000 head, up 15% year-on-year.
Reflecting seasonal conditions, Queensland led the increase, processing 229,000 head in January – 25% higher than year-ago levels. Meanwhile, the fire and subsequent closure at Thomas Foods International in South Australia contributed to kills across the state falling 35% compared to January 2017.
More females sent to kill floors
The proportion of female slaughter was 43.6% in January, 2.8% higher than year-ago levels. The driving factor for the overall rise was a hot, dry summer across large parts of Queensland, which saw almost 89,000 females sent to kill floors, 55% more than year-ago levels.
However, female slaughter remains historically low, with the national herd continuing a rebuild phase following a string of failed wet seasons across much of Queensland. More recently, however, weather systems in late February and early March saw areas in Queensland receive some desperately needed rainfall. Although many producers eagerly await follow-up rain, restocker demand is reflected in the 8.5% fortnightly rise in the Eastern Young Cattle Indicator. As such, higher female retention rates may be observed in the coming months.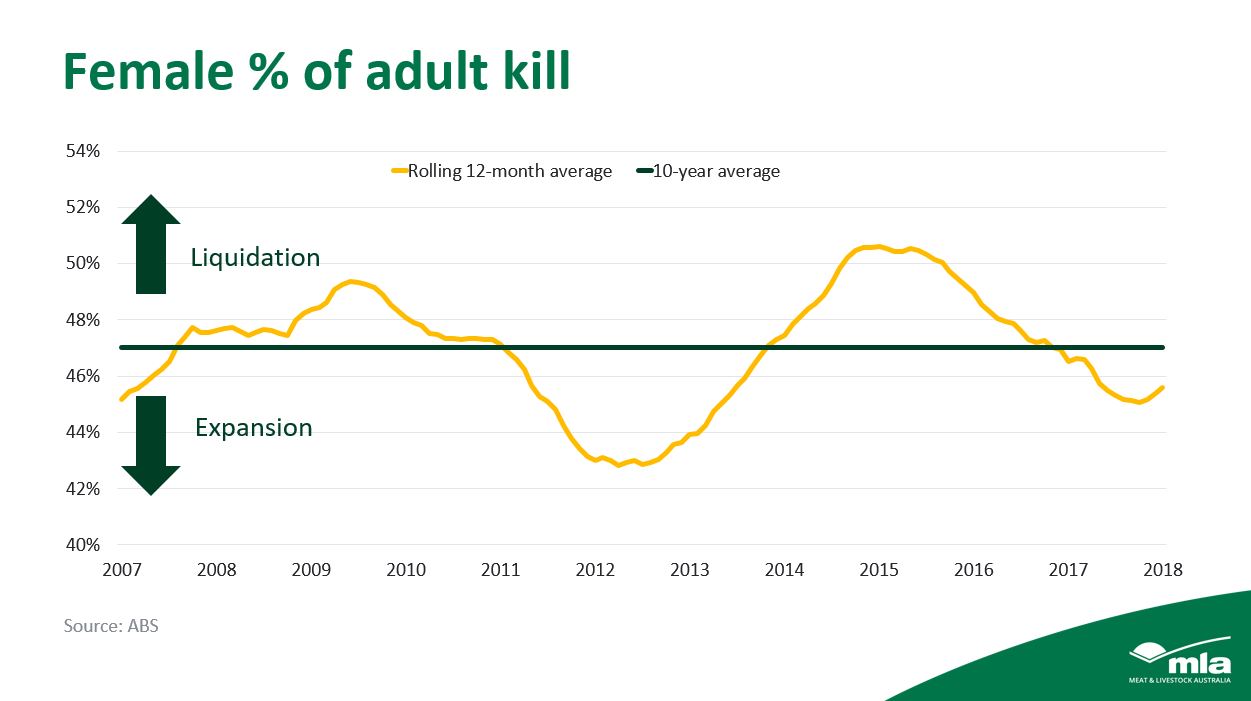 Average carcase weights above 300kg
In-line with rising slaughter numbers, ABS data revealed January beef production was 18% higher in 2018, reaching almost 164,000 tonnes carcase weight. Furthermore, the national average carcase weight surpassed 300kg for just the second time ever, at 302kg for the month. On a 12-month rolling average, the national carcase weight is a record 298kg – 9kg higher than year-ago levels.
A rising proportion of female slaughter generally leads to a fall in the national average carcase weight. Over the past year, however, a record number of cattle have been finished on grain, as observed in the latest cattle on feed survey results, contributing to higher slaughter weights. Compared to January 2017, the average adult female carcase weight rose by 9kg to 272kg, while adult males rose 7kg to 326kg.
Join myMLA today
One username and password for key integrity and information Systems (LPA/NVD, NLIS, MSA & LDL).
A personalised online dashboard that provides news, weather, events and R&D tools relevant to you.
Customised market information and analysis.
Already registered for myMLA?