Cattle exports gain momentum
12 December 2018
Live cattle exports made up ground throughout 2018, underpinned by a reasonable 2017–18 northern wet season (followed by dry conditions over swathes of the rest of the country) and a more favourable price point supporting an uptick in shipments to Indonesia and Vietnam.
The emergence of China as an importer of slaughter cattle, three large shipments of feeder cattle to Russia and strong numbers shipped to Israel also buoyed the live cattle trade in 2018. For the calendar year-to-November, exports totalled 1,008,000 head, up 27% year-on-year.
Live export steers out of Darwin have averaged close to 300c/kg throughout 2018 – often a benchmark of affordability with respect to the Indonesian market and back from an average of 345c/kg across the same period last year.
Steady demand from Indonesia and Vietnam has also supported live trade out of the north, with shipments out of Darwin, Townsville and Fremantle leading the way, up 27%, 27% and 56% year-on-year respectively.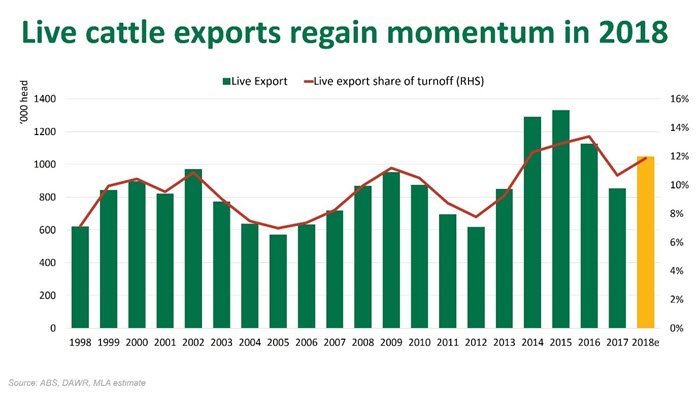 Exports to Indonesia this year have been driven by feeder cattle, which were up 15% year-on-year at 538,000 head. However, this highlights a shortfall in the number of breeders exported in 2018 under the Indonesia government's 5:1 (feeder-breeder) policy. Audits of the policy are scheduled to commence this month but the outcome remains unclear and alternatives undecided.
Looking to next year, any potential rain induced lift in Australian cattle prices, ongoing presence of Indian Buffalo meat and the threat of Brazilian boxed beef gaining access could apply pressure to cattle exports to the market.
The establishment of slaughter cattle exports to China, combined with a lift in breeder cattle shipments this year, has seen the live trade to the market increase 62% year-on-year, to 99,000 head. However, exports of slaughter cattle continue to face numerous barriers to entry in the market and the trade for slaughter cattle appears to be slowing down – there were no recorded shipments in November. A value added tax on imported cattle, the 14-day imposed processing timeframe for imported slaughter cattle and regional limitations on sourcing cattle from Blue Tongue virus zones, underpin the commercial challenges faced in this market.
Other markets (Cattle exports – Year-to-November):
Vietnam, up 21% to 181,000 head
Israel, up 100% to 56,000 head
Malaysia, back 8% to 19,000 head
Turkey, back 7% to 19,000 head
Russia totalled 42,000 head (No recorded shipments in 2017)
Join myMLA today
One username and password for key integrity and information Systems (LPA/NVD, NLIS, MSA & LDL).
A personalised online dashboard that provides news, weather, events and R&D tools relevant to you.
Customised market information and analysis.
Already registered for myMLA?