Cattle price rise underpins producer returns – ABARES
22 September 2016
ABARES' recently released Financial performance of beef farms, 2013–14 to 2015–16, commissioned by MLA, highlights the impact higher cattle prices have had on the producer bottom line.
The report draws on data from the ABARES annual Australian Agricultural and Grazing Industries Survey (AAGIS) which includes beef producers from northern and southern Australia.
While the financial strain from consecutive years of drought, particularly in Queensland, may not have eased completely, the 2015-16 fiscal year appears to have gone some way to improving farm profits and reserves for future investments.
Average farm cash costs in northern Australia increased 6% in 2015-16, to $343,800, while the same metric in southern Australia rose 2%, to $249,000 per business. However, the increase in costs was more than offset by the jump in farm cash receipts generated from significantly higher cattle prices. In 2015-16, northern farm cash receipts increased 15%, to $532,200 per business. In southern regions, farm cash receipts increased by a lesser but still significant degree – up 11%, to $399,300 per business – compared with their northern counterparts, due to the more mixed nature of the farm business (greater sheep and cropping) and smaller exposure to cattle price movements.
Subsequently, farm cash incomes* increased 36% in northern Australia and 31% in southern Australia, to $188,500 and $150,000 per business, respectively.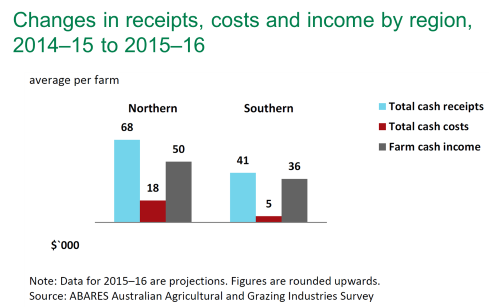 As illustrated in the figure below, average farm cash income in 2015-16 was well above the 15-year average. In addition, the average rate of return (excluding capital appreciation) across Australia in 2015-16 was 1.9%, one of the highest returns over the past decade and well above the 15-year average of 1.0%. In northern regions the rate of return was 1.6% in 2015-16, while in southern regions it was 2.2%.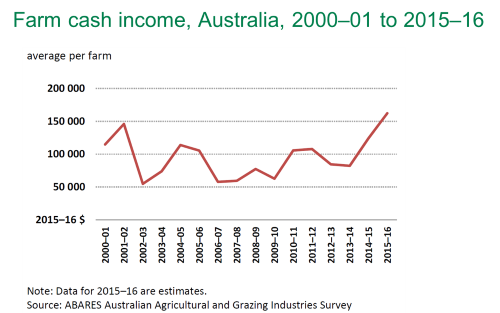 The full report also highlights trends in:
Farm investment
Debt and equity structure
Beef producer productivity
Historical data from the ABARES annual Australian Agricultural and Grazing Industries Survey (AAGIS) survey can be accessed on MLA's databases webpage. Please note, the latest 2015-16 survey results are yet to be made available in the database.
*Farm cash income is defined as farm cash receipts less farm cash costs. Please note, farm cash income differs from farm business profit in that it does not account for the build‐up in trading stocks, depreciation and the imputed value of unpaid labour.
Join myMLA today
One username and password for key integrity and information Systems (LPA/NVD, NLIS, MSA & LDL).
A personalised online dashboard that provides news, weather, events and R&D tools relevant to you.
Customised market information and analysis.
Already registered for myMLA?