Cattle prices approach historical highs
19 July 2016
Driven by tightening supplies over the winter months and a promising seasonal outlook, cattle prices across the country continue to break records in nominal terms (i.e. in the dollar value of the day). However, after converting to real terms (i.e. adjusting for the effects of inflation over time), cattle prices as of last week were at a 35-year high, as illustrated below.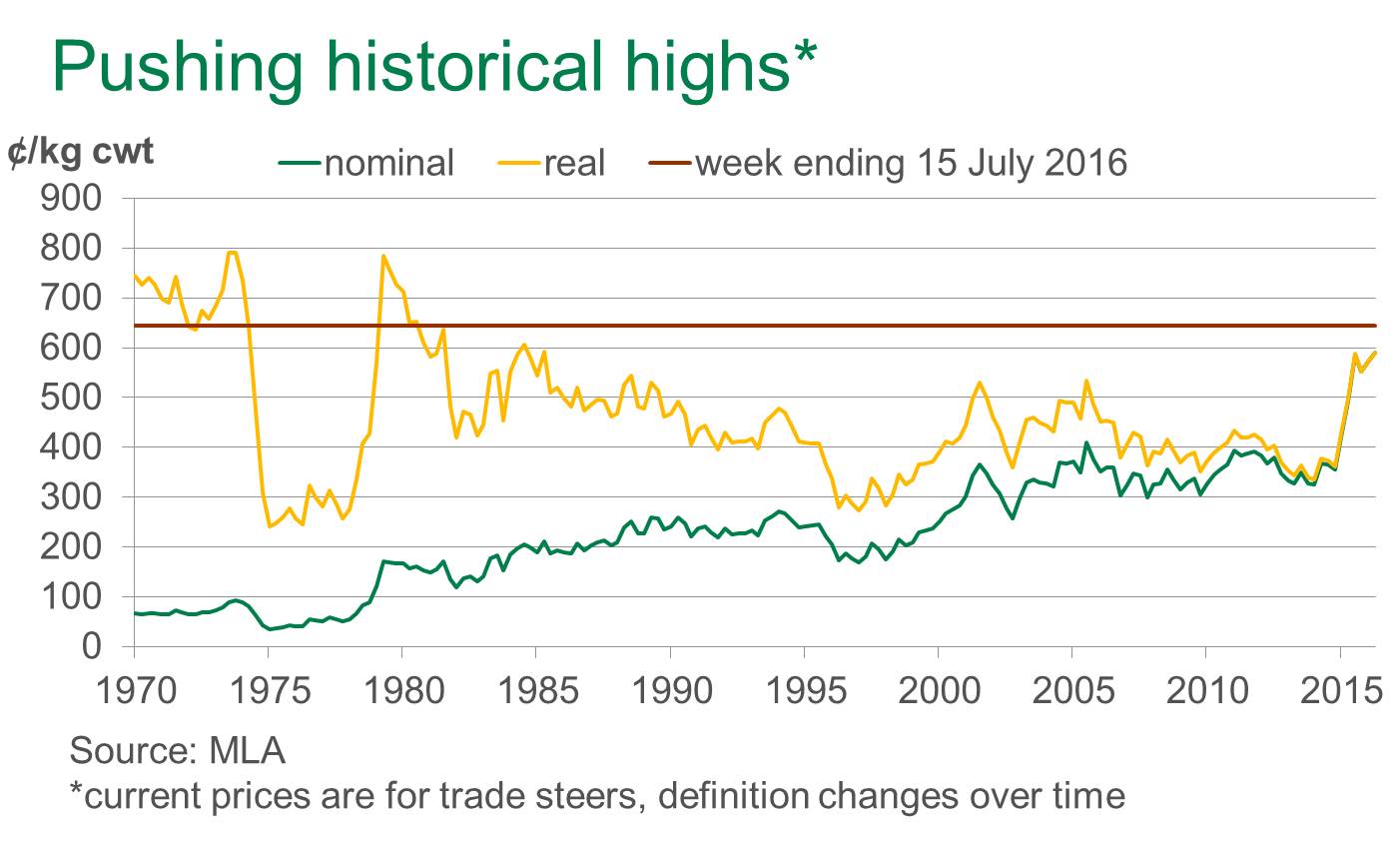 The series above is the quarterly national saleyard trade steer indicator – last week, the indicator finished at 350¢/kg lwt, or an estimated 644¢/kg cwt. Not since the recovery following the 1970s beef crash have cattle prices been as high as they have been in recent weeks, in today's dollars.
While the greatest price increases have been in the store market, the strong appreciation has been recorded across all classes of cattle, with:
The Eastern Young Cattle Indicator (EYCI) finishing yesterday at 659.00¢/kg cwt, up 21% year-on-year
The Western Young Cattle Indicator (WYCI) finishing last week at 665.75¢/kg cwt, up 16%
The Queensland OTH 100-day Grainfed Steer Indicator starting this week at 567¢/kg cwt, up 11%
The Queensland OTH MSA Grassfed Steer Indicator starting this week at 566¢/kg cwt, up 9%
The National Saleyard Heavy Steer Indicator finishing last week at 591¢/kg cwt, up 9%
For the time being, tight cattle supplies are underpinning prices and should continue to do so throughout the remainder of winter and into spring – given the 'above average' rainfall three-month weather outlook from the Bureau of Meteorology for much of the country.
However, as highlighted in the quarterly projections update released this week, purchasing decisions should also be considered in conjunction with the less favourable global beef trading environment and the eventual growth in cattle supplies in Australia. While current prices are at historic highs, a fall will eventually occur – however, it is not clear when this will happen and to what extent.
Join myMLA today
One username and password for key integrity and information Systems (LPA/NVD, NLIS, MSA & LDL).
A personalised online dashboard that provides news, weather, events and R&D tools relevant to you.
Customised market information and analysis.
Already registered for myMLA?