Cattle prices continue to move in opposite direction to beef
15 September 2016
Widespread winter rain has shaped this year's spring to offer abundant pasture and, with the national cattle herd at a 20 year low, producers have either entered the market in force or retained whatever breeding stock they can. In fact, further rain this week led to localised flooding in some regions, accentuating this scenario yet again.
Under these circumstances, its little surprise cattle prices continue to reach unprecedented levels. This makes it vitally critical though, especially for restockers paying extremely high prices, to take a step back and analyse some of the longer term trends.
As illustrated below, the 12-month rolling average imported 90CL price into the US has been in decline for 11 consecutive months, and this week, according to Steiner Consulting Groups weekly report for MLA, imported 90CL prices were 192.0US¢/lb, down 5.5US¢/lb week-on-week (562.9A¢/kg, down 9.4A¢/kg). Movements this week were in response to the continued decline in domestic grinding beef prices, which have put pressure on imported values.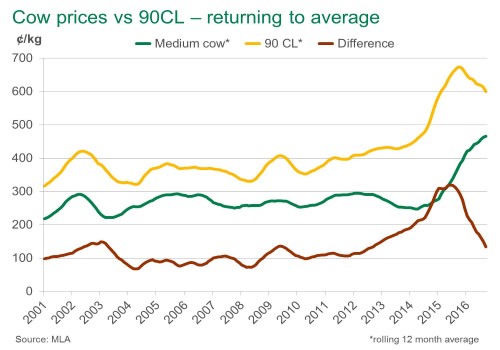 On top of this, the September World Agriculture Supply and Demand Estimates (WASDE) released earlier in the week by the USDA maintained previous forecasts for US beef production in 2016 to be 5% above 2015 levels, at 25,006 lbs cwt (11.3 million tonnes cwt), before rising a further 3% next year, to 25,864 lbs cwt (11.7 million tonnes cwt).
This is of concern for Australian beef producers on two fronts. Firstly, higher production has led US imported beef demand expectations to decline 12% by the time 2016 is over, before declining a further 12% in 2017, to 2,600 lbs (1.18 million tonnes cwt) – making it unlikely that imported 90CL prices will recover any time soon. Secondly, greater US production is forecast to underpin a 9% increase in US beef exports this year, and a further 5% next year, to 2,580 lbs (1.17 million tonnes cwt) – most of which will enter Japan and Korea, creating further competition for Australian product.
While the US is one of many export destinations for Australian beef, and 90CL is only one of many beef items exported, it does provide a good indication of general beef price trends. An important further point is that while the US market may be offering lower prices than some other markets at present, many of the alternatives are much smaller and unable to absorb the volume of product that the US can – especially for lean grinding beef.
Back at home, it is highly likely that the shortage of Australian cattle will continue to keep prices buoyant. However, considering the longer term global production trends and consequent prices (especially in the US), the duration at which the current market lasts will depend upon when Australian production levels recommence building, rather than falling.
Join myMLA today
One username and password for key integrity and information Systems (LPA/NVD, NLIS, MSA & LDL).
A personalised online dashboard that provides news, weather, events and R&D tools relevant to you.
Customised market information and analysis.
Already registered for myMLA?