Cattle supply tightens following rain
29 August 2018
Recent rain has seen the supply of cattle contract and prices increase, with the EYCI up 32.5¢ from last week.
Yardings
The number of cattle yarded around the country experienced a considerable decline this week. Monday and Tuesday's nationwide yardings were 39% lower than the average of 29,589 head from the first two days of the previous four weeks, with producers withdrawing cattle from markets following widespread – although not overly substantial – rain over the weekend. Queensland and NSW received the majority of the rain over the last week, which saw saleyard throughput decrease 25% and 30%, respectively, week-on-week.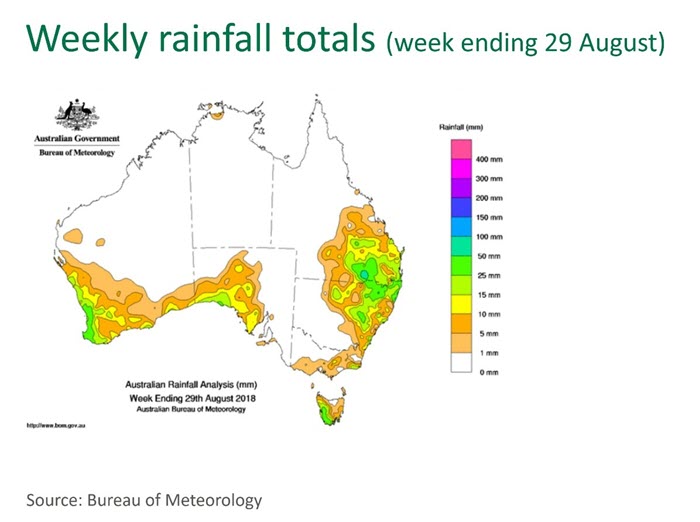 Some of the most impacted saleyards included:
Wagga – down 32%
Toowoomba – down 65%
Tamworth – down 68%
Roma – down 17%
Muchea – down 54%
Camperdown - down 35%
Prices
The reduction in supply has seen a small increase in price. The Eastern Young Cattle Indicator (EYCI) on Tuesday climbed back to 477¢/kg carcase weight (cwt), up 32.5¢ from last Monday when it fell below 450¢ for the first time since April 2015. Whether the indicator will continue to recover will largely depend on if, and when, follow-up rain is received across the key supply regions.
The Western Young Cattle Indicator (WYCI) has remained stable throughout August, holding firm between 530¢ and 540¢/kg cwt.
The national medium cow saleyard indicator has remained stable around 180¢/kg live weight (lwt) over the last three weeks – yet to see the supply based price rises.
Markets
Sales at Tamworth on Monday saw less than a third of the previous weeks yarding with only 600 head offered for sale. The drop in supply had an immediate impact with prices increasing at least 5¢ to 10¢/kg lwt across all categories of young cattle, many up 20¢/kg lwt more. Some pens of cows at Tamworth also saw an increase of up to 20¢/kg lwt.
Roma store sale numbers on Tuesday were also lower, a decrease of 17% on last week and just half of the numbers from a fortnight ago. Prices were up 6¢ to 13ٌ¢/kg lwt for young steers, while heifers remained steady.
Whether the rise in price draws more cattle back to the market again next week remains to be seen, with no widespread rain forecast over the next week.
Join myMLA today
One username and password for key integrity and information Systems (LPA/NVD, NLIS, MSA & LDL).
A personalised online dashboard that provides news, weather, events and R&D tools relevant to you.
Customised market information and analysis.
Already registered for myMLA?