China's ban on US beef lifted
27 September 2016
After 13 years China has lifted a ban on some beef products from the US, according to the China Ministry of Agriculture and General Admission of Quality Supervision, Inspection and Quarantine.
While the ban on US beef has been lifted, there are a number of technical access conditions to be negotiated between China and the US, and until these are defined it's unclear when the US re-entry will come in to place and how it will affect Australia's supply to China.
Some of the key technical issues include the implementation of suitable traceability systems, the use of Hormonal Growth Promotants / Ractopamine, and supply of cattle under 30 months of age.
Australian volumes to China have slowed this year due to reduced cattle availability, increased competition from international competitors and strong demand from other key markets for Australian beef such as Korea.
China's ongoing economic growth and the increasing wealth of the middle class population means the market for beef will continue to grow. This year, imports to China have grown by over 50% – highlighting the strong growth potential for beef in this market.
China ceased importing US beef in 2003 to prevent the risk of Bovine Spongiform Encephalopathy (BSE).
The US' top ten export destinations during the 2015-16 financial year were as follows: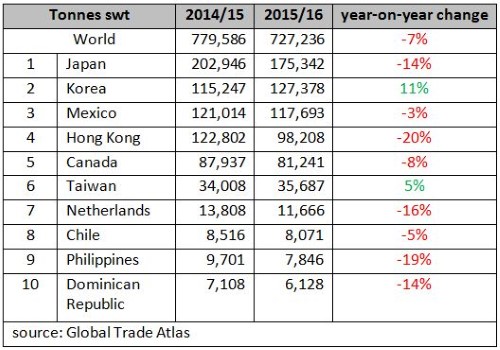 Join myMLA today
One username and password for key integrity and information Systems (LPA/NVD, NLIS, MSA & LDL).
A personalised online dashboard that provides news, weather, events and R&D tools relevant to you.
Customised market information and analysis.
Already registered for myMLA?