Chinese middle class accessing Australian red meat through foodservice
10 November 2015
---
Traditionally in Chinese cuisine, beef was not a major protein in household meals. According to MLA's Global Consumer Survey, however, due to the growing wealth and adventurousness of China's middle class, beef is becoming a more common part of daily diets, especially via the foodservice channel.
A large proportion of Australia's red meat exports to China go to foodservice. 
The survey demonstrates that although beef and lamb are considered superior proteins in terms of nutritional value, and are worth paying more for, they are also seen as less versatile and "less easy and convenient to prepare" than meats like pork and chicken.  The foodservice channel offers Chinese consumers easy access to red meat. 
According to MLA's Global Consumer Survey's China report, around 90% of respondents eat out for lunch at least once a week (43% do so over 4 times per week) and 78% eat out for dinner at least once a week. 
As a comparison, Chinese eat out more frequently than Australians but less often than Taiwanese. 
Average frequency of meals eaten out

Lunch

Dinner

4 times per week or more

Once or twice per week

Less often or never

4 times per week or more

Once or twice per week

Less often or never

China

43%

47%

11%

14%

64%

22%

Taiwan

60%

29%

10%

31%

52%

16%

Australia

13%

35%

52%

9%

34%

57%

Source: MLA Global Consumer Survey 2015
The survey results suggest that when Chinese consumers do eat meals out, 26% of the meals include beef – the highest proportion of all the proteins.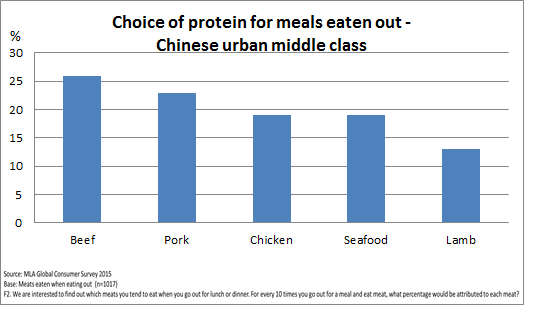 Lamb is a comparatively less frequent and traditionally more seasonal choice (13%), although in the context of hot pot restaurant meals, lamb is the primary choice and is becoming more popular year-round.   Indeed, Chinese consumers choose lamb slightly more often for meals eaten out than Australians do (13% versus 11% in Australia), though is a relatively less popular choice for meals eaten out in Taiwan (5%).
Although the meals eaten out by these Chinese consumers that include beef are mostly domestic beef (51%), the second most popular choice is Australian beef (18%). 
Similarly, the most popular choice of lamb foodservice meals for Chinese consumers is domestic Chinese lamb (59%), followed by Australian lamb (22%).
Join myMLA today
One username and password for key integrity and information Systems (LPA/NVD, NLIS, MSA & LDL).
A personalised online dashboard that provides news, weather, events and R&D tools relevant to you.
Customised market information and analysis.
Already registered for myMLA?