Competitive pressure builds for Australian beef exports to China in 2016
05 May 2016
---
The 2016 year-to-date (Jan-Apr) volume of Australian frozen grassfed beef (which accounts for the majority of Australian beef to China) exported to China saw a drop compared to 2015, but there were increases in other categories.
Australian total beef exports to China for the first four months (Jan-Apr) of 2016 were down 26% compared to 2015, totalling 31,096 tonnes swt.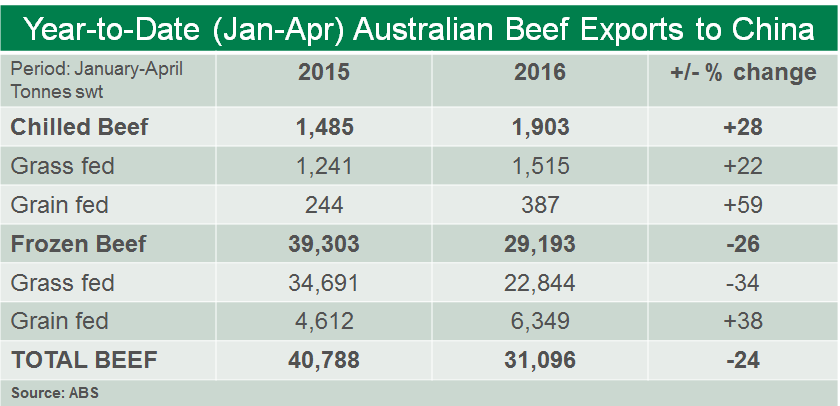 Compared to the first four months of 2015, Australia has exported more manufacturing beef and shin/shank to China in 2016, as well as more chuck, thin flank and short ribs but less carcase, silverside/outside, brisket and thick flank.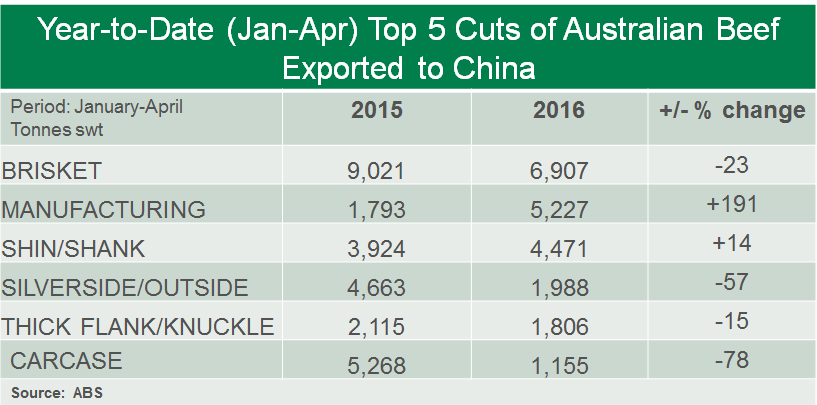 On the demand side, China's direct beef imports for the first quarter of 2016 (January to March) were up 90% on 2015, totalling 138,956 tonnes swt (Source: China Customs).
A significant intake of frozen beef from Brazil has had a large impact in the market since it re-gained access mid-2015, making Brazil China's largest imported beef supplier, with a 33% share from January to March, up from zero in the first quarter of 2015. Australia remains China's second largest direct supplier (21% share) but Uruguay is a very close third (20% share).
China has also imported significantly larger volumes of frozen beef in 2016 compared to the first quarter of 2015 from several other suppliers such as Uruguay (+24%), New Zealand (+59%) and Canada (+311%).
Wholesale beef prices in China remain high but quite steady – at week 16 of 2016 the price was 53.3 yuan per kg (Ministry of Agriculture of the People's Republic of China).
Bovine Offal
Australia's bovine offal export volume to China so far in 2016 is farly steady on last year, with 1,368 tonnes swt exported from January to April. 
However, there have been some changes in the types of offal cuts exported, with heart volume down (-33%) but other cuts such as tendon, kidney and tail up (+42% collectively). 
Join myMLA today
One username and password for key integrity and information Systems (LPA/NVD, NLIS, MSA & LDL).
A personalised online dashboard that provides news, weather, events and R&D tools relevant to you.
Customised market information and analysis.
Already registered for myMLA?