Demand drives US prices
07 November 2017
Key points:
Strong domestic demand has been the overwhelming factor in driving US cattle and beef prices higher, which in turn has buoyed the short to medium term outlook for imported beef prices.
Underpinned by limited availability from both New Zealand and Australia, US importedprices are currently trading at a premium to that of US domestic product.
The depreciation of the Australian Dollar against the US (currently at 76.5US¢) has incentivised some US importers to enter the market when they have otherwise been reluctant. However, this has been mostly offset by increases in Australian cattle prices driven by limited domestic availability.
In the last two months, US cattle and beef prices have maintained an upward trajectory despite beef production continuing to increase. However, US cattle prices remain someway off the 2015 peak.
Feedlot cattle placements in September were 13.5% higher year-on-year, which will significantly bolster the number of market ready cattle moving into early 2018.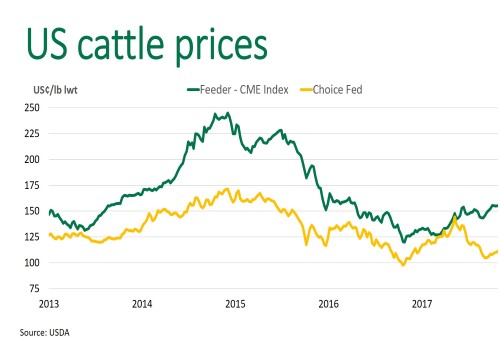 What's driving US prices?
The market sentiment is very much that strong demand has been the overwhelming factor in driving US cattle prices and beef prices higher.
Domestic demand has been underpinned by sustained retail features/promotions throughout the year, but also a shift in focus from foodservice operators to chilled beef across menu items – supporting local US product. A further indication of a strong domestic market has been the decline in average carcase weights – steer weights are now 1.7% lower than the same time last year. Cattle are being turned off earlier in order satisfy demand.
Export demand has also contributed towards offsetting any surplus in supplies generated as a result of increased US production. For the calendar year-to-August, US beef exports were 15% higher than the same period last year. A reduction in US beef imports from both Australia and New Zealand has seen a 3.5% year-on-year decline in total imports for the calendar year-to-date.
The latest USDA cold storage report indicates that, as at 30 September 2017, frozen beef inventories were back 6% year-on-year, at approximately 221,200 tonnes. This indicates product is being absorbed into market and diverted away from cold storage.
US Imported beef prices
US imported beef prices maintained an upwards trajectory, as US end users were more active in an increasingly competitive market this week. The improved outlook for beef demand in the short to medium term has buoyed prices.
The imported 90CL beef indicator lifted 2.5US¢ from the previous week's levels, to 208.5US¢/lb CIF (up 11A¢, to 598.98A¢/kg CIF).
Imported beef availability
US imported prices continue to be supported by limited availability from both New Zealand and Australia, with prices now trading at a premium to that of US domestic product. However, it is not unusual for this sort of price premium to occur at this time of year, as New Zealand slaughter is seasonally low and US cow slaughter typically increases.
An increase in supplies from New Zealand is not expected to occur until January. In Australia, above-average rainfall in October across parts of Queensland and northern NSW has reduced cattle availability, as producers look to benefit from improved pasture conditions. Moreover, Australian cattle prices have increased as a result; the Eastern Young Cattle Indicator (EYCI) opened October at 508¢/kg carcase weight (cwt) and rose to finish the month at 573.25¢/kg cwt.
As manufacturing product accounts for the majority of Australian beef exported to the US, the medium cow indicator can impact 90CL price movements. While there has been a modest lift in the medium cow indicator, imported 90CL prices have advanced at a quicker rate, driven by the demand factors detailed above.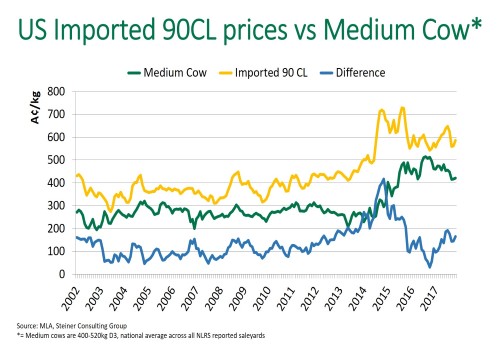 Currency Movements
On September 8th the A$ reached 81US¢ – the highest level since May 2015. Since then, the A$ has depreciated to within a range most major banks had previously forecast – currently trading at 76.5US¢.
For the July-to-September quarter the US economy grew by 3%, which was stronger than forecast and has since provided support to an appreciating US dollar.
For Australian exporters, a move lower for the A$ dollar assists their competitiveness in the US market, incentivising US importers to enter the market when they have otherwise been reluctant with unfavourable exchange rates.
However, the decline in the A$ has been mostly offset by limited domestic cattle availability and increasing Australian cattle prices in recent weeks.
Highlights from the week ending 3rd November:
CME cattle futures have gained as much as 12% in the last four weeks on an improving outlook for beef demand
Fed cattle slaughter in the US this week was once again over 500,000 head, 5.1% higher than a year ago and the highest level for this time of year in over a decade
Latest Restaurant Performance Index (a measure of customer traffic) increased, largely due to an improvement in expectations for the coming months
Click here to view Steiner Consulting US imported beef market weekly update
Join myMLA today
One username and password for key integrity and information Systems (LPA/NVD, NLIS, MSA & LDL).
A personalised online dashboard that provides news, weather, events and R&D tools relevant to you.
Customised market information and analysis.
Already registered for myMLA?