Doing better business
16 May 2018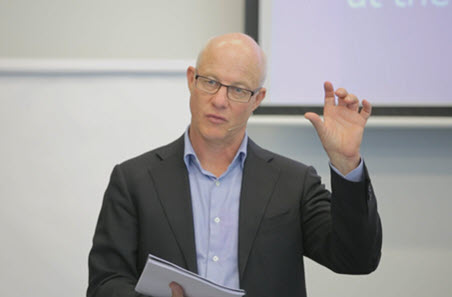 Agri-Business Development Institute (ABDI) director Gordon Stone hates it when he hears people refer to themselves as 'just a cattle producer' or 'just a farmer'.
"Many run multi-million dollar businesses and in any other industry would regard themselves as the CEO or managing director," he said.
This perspective is a cornerstone of ABDI and, since 2011, the program has worked with more than 160 farming businesses to meet the challenge of changing.
During the last 18 months, more than 50 businesses have completed an ABDI program supported by MLA Donor Company (MDC) to specifically improve the skills of producers, advisors and others in the beef value chain.
"Many people are confident in their production skills, but are looking for help to manage the business and people side of things," Gordon said.
"They feel they could be doing more to capitalise on opportunities in today's market place but don't know where to start, or who to go to for support."
Some of the changes participants have made as a result of the programs include:
taking a more customer-oriented approach in a commodity market place to position themselves differently to other suppliers
identifying niche market opportunities
positioning a multi-generational business to meet the expectations of all family members
taking their business to the next level by orderly, planned expansion.
The ABDI mantra is 'to create high-performing, self-managing, saleable and profitable agri-businesses'.
While some producers might balk at the term 'saleable', Gordon said this doesn't necessarily mean a business has to be sold.
"It is about creating a disciplined, healthy business that is attractive to investors," he said.
"Investors may be banks, external financial investors, or the younger generation who want to invest 'sweat equity' or financial capital into their family business."
All the programs centre around 12 'Pillars of Business Best Practice' to guide participants in defining their personal and business vision and implement steps to change factors such as managing finances and people, operating in a more corporate way, succession, value-adding, marketing and communication.
Gordon said it can be a confronting process.
"We encourage participants to take personal responsibility and step into the roles which reflect their skills and interests, such as CEO, financial manager, sales and marketing manager or human resources manager," he said.
"This can be challenging but it pinpoints skill gaps in the business which can be outsourced, allowing everyone to work to their strengths."
Gordon's tips for how to do business better
Be ready to work on your business, not in it. Step away from the day-to-day activities of running a property and invest time to develop your business.
Create a vision. Ask yourself, what do I want out of life? What do I want my business to do for me? What am I really good at? What do I enjoy doing?
Involve everyone. Encourage all family members to be involved in business development, so everyone comes along on the journey.
Don't rush change. It takes time to change the business. ABDI's 12-month program is designed to give participants time to distil information and put it into practice as they learn.
Be ready to be challenged. Taking control of your destiny can be a confronting experience, but the business-mentoring programs provide a supportive environment with like-minded people.
Be open to new ideas. Specialist mentors from outside agriculture who encourage participants to think outside the square.
INFORMATION:
Agri-Business Development Institute: www.abdi.com.au
MLA Donor Company: mla.com.au/mdc
Calendar:
ABDI 12-week business intensive program:
Emerald: 24–25 May 2018
Biloela: 7–8 June 2018
Wagga Wagga: 21–12 June 2018
ABDI 12-month Agri-Business Management Program (MDC-supported):
17–18 May 2018 – Brisbane, Queensland
20–21 September 2018 – Wagga Wagga, NSW
Join myMLA today
One username and password for key integrity and information Systems (LPA/NVD, NLIS, MSA & LDL).
A personalised online dashboard that provides news, weather, events and R&D tools relevant to you.
Customised market information and analysis.
Already registered for myMLA?