Domestic demand supporting US imported beef prices
30 October 2017
US imported beef prices were steady to higher this week, as a result of limited trading between overseas packers and US end users. Furthermore, prices continue to be supported by limited availability from both New Zealand and Australia.
The imported 90CL beef indicator lifted 1.5US¢ from the previous week's levels, to 206.6.US¢/lb CIF (up 13A¢, to 587.38A¢/kg CIF).
US demand for beef – in particular lean grinding beef – remains robust. This is further underlined by current market prices, which are yet to see the downward pressure previously forecast, as a result of growing US production.
However, US cattle slaughter has started to slow in the last two weeks, averaging just 0.9% above year-ago levels, having previously averaged 5.5% higher year-on-year in September and into early October. In addition, average carcase weights continue to track lower than last year, underpinning reduced availability in the spot market.
US fed cattle futures have rallied in recent weeks off the back of firmer cash prices for fed cattle, with February and April's fed cattle futures moving as much as 10% higher in the last two months. While it may be the case that US fed cattle futures are somewhat overstating beef demand in 2018, much will depend on how the US economy performs next year and how demand might be either positively or negatively affected.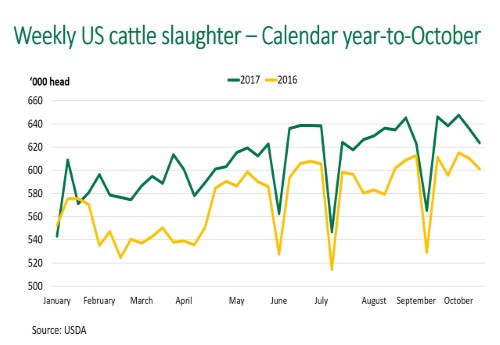 Highlights from the week ending 27th October:
The price of 50CL beef trimmings jumped 18% compared to a week ago and it is now 88% higher than last year
Fed steer prices are currently as much as 7% above last year on a dressed basis while the choice beef cut-out is up 10.5%
Imports of fresh and frozen beef lifted this week to 19,162 MT, 35% higher than the same week a year ago and the highest weekly volume since early September.
Click here to view Steiner Consulting US imported beef market weekly update
Join myMLA today
One username and password for key integrity and information Systems (LPA/NVD, NLIS, MSA & LDL).
A personalised online dashboard that provides news, weather, events and R&D tools relevant to you.
Customised market information and analysis.
Already registered for myMLA?