Drier winter expected
25 May 2017
A combination of higher than average temperature and below average rainfall is expected across much of Australia over the next three months – particularly for southern half of the continent.
The Bureau of Meteorology's (BOM) June to August climate outlook, released today, forecasts south-western WA, SA and the western regions of NSW and Victoria have only a 20-35% chance of exceeding median rainfall. The eastern extremities of NSW and Victoria, central NT, the Kimberly and much of Queensland have a slightly better (40-55%) chance of receiving median rainfall. Meanwhile, the Cape, the Top End and Tasmania are more likely (65-75%) to exceed median rainfall over the winter period.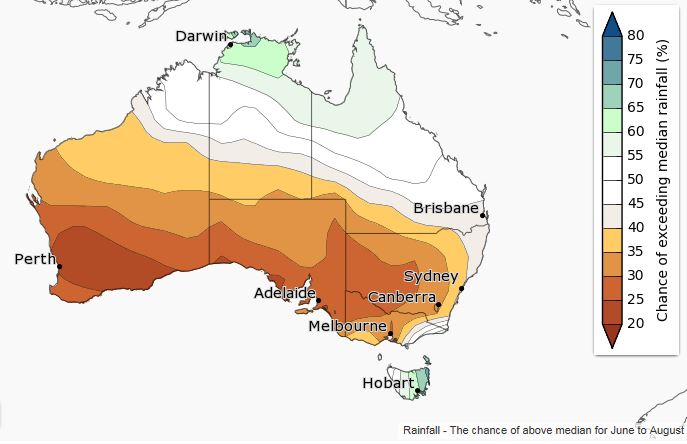 Source: Bureau of Meteorology
Rainfall throughout June is anticipated to be particularly below average in the south, while northern regions are likely to receive an average dry-season rainfall. The forecast throughout July is milder, with the vast majority of the country having a 35-60% chance of a better than average season.
Areas anticipated to be under the influence of drier conditions are also predicted to see higher maximum temperatures throughout winter, during both day and night.
Influencing the winter outlook is a warmer Pacific Ocean to the east and cooler Indian Ocean to the west. The BOM also suggested that, according to several models, an El Nino weather pattern may establish in the second half of 2017 – the likeliness of which is approximately 50%.
Join myMLA today
One username and password for key integrity and information Systems (LPA/NVD, NLIS, MSA & LDL).
A personalised online dashboard that provides news, weather, events and R&D tools relevant to you.
Customised market information and analysis.
Already registered for myMLA?