Dry finish to winter
27 July 2017
The prospect of receiving a break in the season before the end of winter is looking less and less likely – according to today's release of the August to September rainfall outlook by the Bureau of Meteorology.
BOM notes that, in this outlook, a reduced westerly flow is predicted for southern and southeast Australia. This indicates fewer rain systems are likely for areas inland of the Great Dividing Range.
August, particularly, is forecast to be drier than average across much of southern mainland Australia. This will come as unwelcome news for producers hoping for some reprieve from the dry conditions during June and July, before spring arrives, with pasture conditions already a big concern in many areas. The Top End and most of Queensland have a roughly equal chance of exceeding the median rainfall for the month, while Tasmania is likely to receive above-average rain.
The outlook for September is more neutral. Central WA, southern NSW and most of Victoria still only have a 30-35% chance of above-average rain during the month, whereas the probability for most of remaining areas is roughly equal. Encouragingly though, pockets of southeast and western Queensland have a greater chance of a wetter than average start of spring.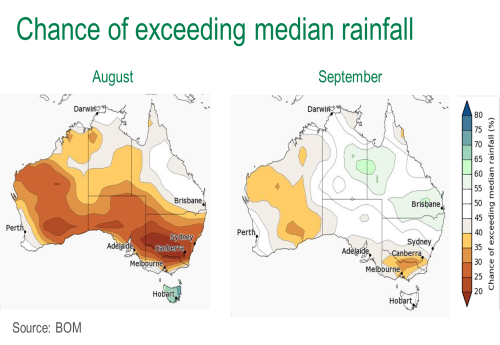 If the outlook comes to fruition, it will be very telling for the rest of year for many parts of southern Australia – with the sheep and cattle markets hinging on seasonal conditions in the lead up to spring.
Join myMLA today
One username and password for key integrity and information Systems (LPA/NVD, NLIS, MSA & LDL).
A personalised online dashboard that provides news, weather, events and R&D tools relevant to you.
Customised market information and analysis.
Already registered for myMLA?