Dry July unsettles lamb market
01 August 2017
Below average rainfall across much of southern Australia in July was a key factor behind the volatility in the Australian lamb market during the month. In fact, decent rainfall has been lacking in many key supply regions since autumn, and the outlook to October is not looking overly promising. Furthermore, a rising dollar and seasonal plant closures also added to price variability over the month.
Prices
Eastern states lamb saleyard indicators fluctuated considerably during July and all finished lower than where they were at the start of the month.
Compared to July last year:
The light lamb saleyard indicator was down 1¢, averaging 574¢/kg cwt for the month
The eastern states trade lamb indicator (ESTLI) was 27¢ lower, at 598¢/kg cwt
Heavy lambs averaged 596¢/kg cwt, back 44¢ year-on-year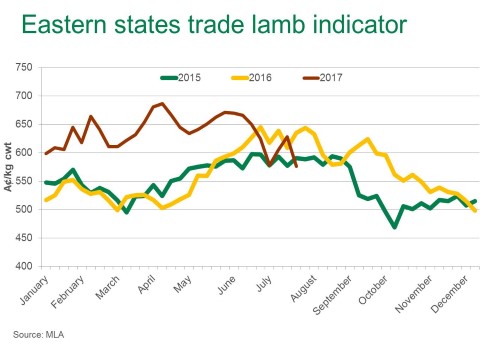 Despite the recent declines, prices remain historically high. This July, light lambs were 86¢ higher than the five-year average, while the ESTLI was up 62¢/kg cwt. Meanwhile, the heavy lamb indicator increased 55¢/kg cwt from the 2011-2016 July average.
The direction of the market for the remainder of the year will be largely influenced by seasonal conditions over the coming month, as the spring lamb flush ramps up.
Supply
The number of lambs processed across the eastern states in July lifted 11% from year-ago levels, to 1.3 million head. The rise was largely underpinned by increased kills in Victoria (up 15%, to 694,500 head) and SA (up 54%, to 188,700 head). NSW slaughter declined 5% year-on-year, to 390,200 head in July, while processing in Tasmania decreased 15%, to 32,400 head.
Lamb yardings at MLA reported eastern states saleyards in July fell 4% from the same time last year, to almost 570,000 head. Throughput declined 1% in NSW, to 452,100 head, while numbers in Victoria dropped 17%, to 84,700 head. Yardings in SA and Tasmania were both down 6% year-on-year in July, to 29,700 and 3,400 head, respectively.
However, new season lamb numbers through eastern states saleyards in July were more than double that of last year, at just over 49,600 head. The rise was largely driven by a near three-fold increase in new season lambs penned in NSW, at close to 44,000 head.
Of the new season lambs penned across the eastern states in July, the proportion of light weight lambs was 26% (down from 28% last year), while trade weights accounted for 36% (down from 50% last year). Heavy new season lambs made up a greater share this year, at 37% in July (compared to 21% last year).
Join myMLA today
One username and password for key integrity and information Systems (LPA/NVD, NLIS, MSA & LDL).
A personalised online dashboard that provides news, weather, events and R&D tools relevant to you.
Customised market information and analysis.
Already registered for myMLA?