Eastern states adult cattle slaughter lifts
29 October 2015
---
Eastern states adult cattle slaughter, reported by MLA, lifted 3% week-on-week, to over 6,000 head for the week ending the 23rd of October – 10% above five-year average levels. The increase was mostly attributed to a 4%, or 3,472 head, increase in Queensland, with 84,024 head processed. Victoria recorded an increase of 5% to 30,548 head and the NSW adult cattle kill was 37,580 head.
Over-the-hook (OTH) indicators have responded to the increase in supply, with the national indicators easing close to 40¢ since the peak in late September for trade steers and 62¢ for medium cows, to average 511.62¢ and 423.85¢/kg cwt, respectively, this week.
Across the eastern states this week:
OTH indicators for trade steers in Queensland rose 3¢ week-on-week to 517¢/kg cwt
Victorian trade steer OTH indicators remained steady week-on-week on 522¢/kg cwt, although back 40¢/kg cwt from the September peak
OTH indicators for trade steers in NSW were also firm compared to last week on 496¢/kg cwt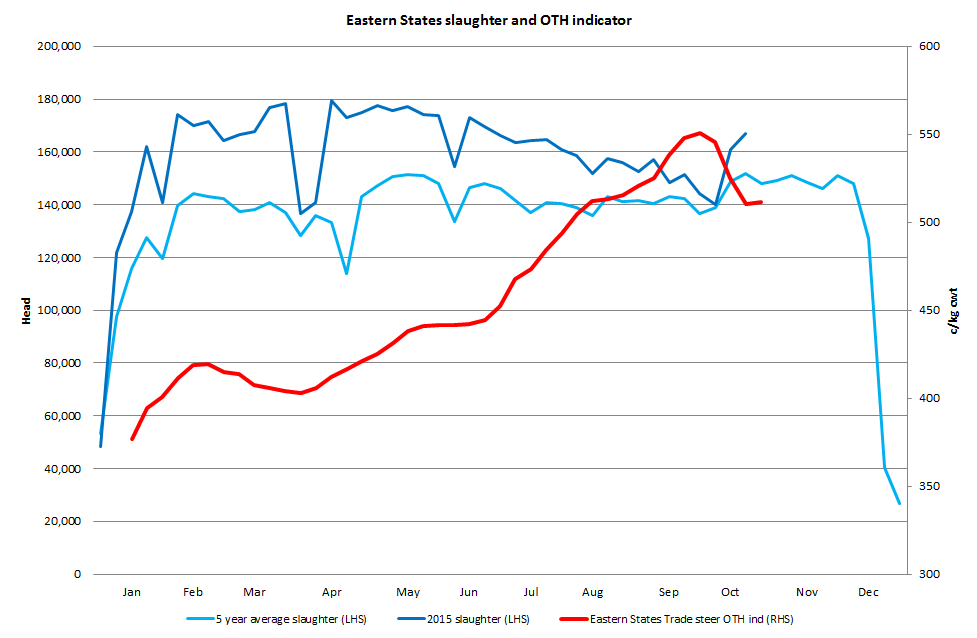 Join myMLA today
One username and password for key integrity and information Systems (LPA/NVD, NLIS, MSA & LDL).
A personalised online dashboard that provides news, weather, events and R&D tools relevant to you.
Customised market information and analysis.
Already registered for myMLA?