EYCI lagging behind finished market
22 August 2018
As young cattle prices continue to slide, demand for finished cattle has held firm, supported by a weak Australian dollar and robust export demand.
On Monday, the Eastern Young Cattle Indicator (EYCI) fell below 450¢/kg carcase weight (cwt) for the first time since April 2015, to 445¢/kg cwt. At the other end of the market, prices for finished cattle have been relatively stable over the last year, with the 100-day Queensland over-the-hooks (OTH) grainfed steer indicator sitting at 531¢/kg cwt on Monday.
In a better season, with increased feed availability, restocker demand typically drives higher prices for young cattle when compared to their finished counterparts, as was the case in 2016 and 2017. In April 2018, the EYCI began to trade at a discount to the finished market, and has done so consistently since that time as worsening seasonal conditions have deterred restocker buyers.
At the beginning of this week, EYCI eligible cattle were trading at a 16% discount to the Queensland 100-day OTH grainfed steer indicator (on a per kilogram basis) – the largest discount (%) recorded since 2014.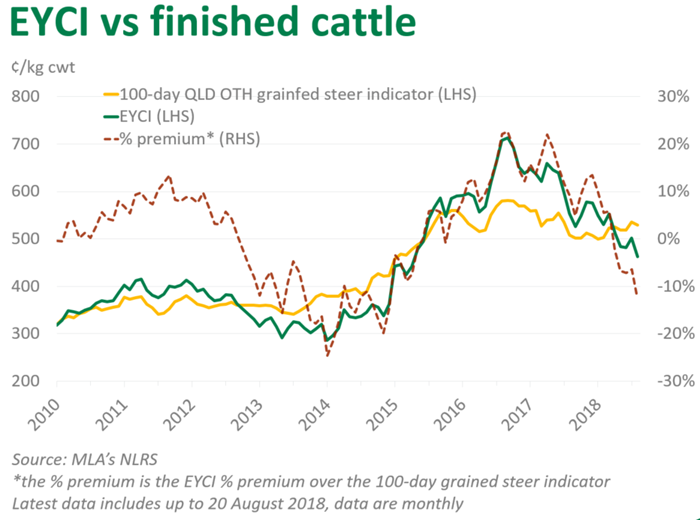 Feeder-suitable cattle found relatively firm support for the first half of the year. Over the past month, however, feeder prices have begun to follow the overall market lower, with high grain prices a primary factor.
Eastern states feeder paddock prices, collected by MLA this week, declined for the third consecutive week.
The domestic paddock feeder steer indicator declined 12¢, to average 268¢/kg live weight (lwt)
The domestic paddock feeder heifer indicator declined 20¢, to average 245¢/kg lwt
The short-fed Angus feeder steer declined 12¢, to average 310¢/kg lwt
Join myMLA today
One username and password for key integrity and information Systems (LPA/NVD, NLIS, MSA & LDL).
A personalised online dashboard that provides news, weather, events and R&D tools relevant to you.
Customised market information and analysis.
Already registered for myMLA?