EYCI price relief amid tighter supply
11 July 2018
Light rain across parts of eastern Australia has lifted market sentiment, with the Eastern Young Cattle Indicator (EYCI) rising back above 500¢/kg carcase weight.
While not considered drought-breaking by any means, rainfall in early July has lifted the mood in saleyards across the eastern states (if only slightly). A combination of factors, including a fall in saleyard throughput, robust global beef demand and a weaker Australian dollar has seen the EYCI rise 50¢ since 1 June, or 11%, to 516¢/kg carcase weight (cwt).
Seasonal
There was little uniformity to the rainfall during the past fortnight, although some of the driest regions in eastern Australia received falls of up to 50mm. While the rain provided a boost to sown pastures such as oat crops, many producers are aware that the colder weather will limit the extent to which other pastures can develop.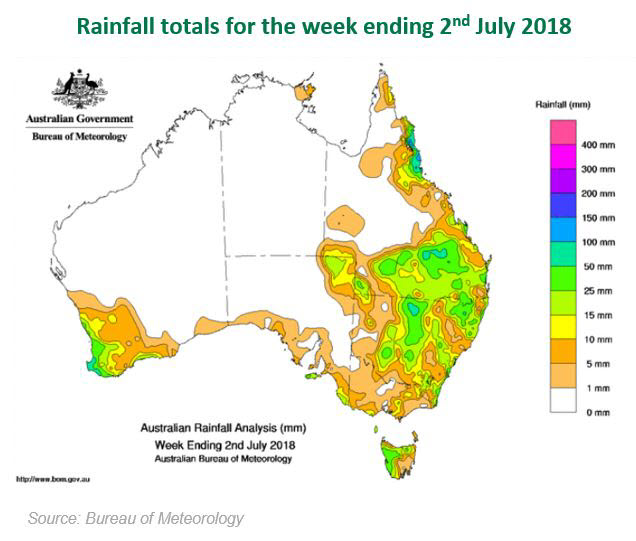 Saleyard throughput
Total yardings across eastern states for the first five weeks of winter were down 10% year-on-year. Saleyard throughput lifted slightly in NSW, while Queensland experienced a 25% decline. Rain in south-west Queensland saw throughput at Roma store sales fall by 10,000 head compared with 2017 numbers.
Focusing on EYCI eligible cattle over the same five-week period, numbers fell 14% year-on-year. National Livestock Reporting Service (NLRS) saleyard data demonstrates lot feeder buyers eclipsed restockers to account for the majority of sales. Lot feeder buyers purchased 44% of all EYCI eligible cattle, up from 38% in 2017, while restocker sales fell from 48% to 41%.
Market reports suggest some lot feeders are experiencing difficulty in sourcing animals of appropriate specifications, with producers now having the option of holding on to stock.
Prices
Eastern states saleyard prices have risen across all categories since the start of June. Cows saw the strongest gains, with the Medium Cow indicator rising 31¢, or 18%, to 201¢/kg live weight. The Feeder Steer and Heavy Steer indicators were up 9% and 8% respectively.
The EYCI rose 11% to 516¢/kg cwt between the start of June and 9 July, however, the indicator sits 15% below July 2017 levels.
In terms of the outlook for young cattle prices, suitable feeder cattle will likely find support throughout winter, as lot feeders appear intent on maintaining high numbers on feed. The market for lighter weight cattle will have a stronger correlation to seasonal conditions over the coming months, as restockers enter and exit the market.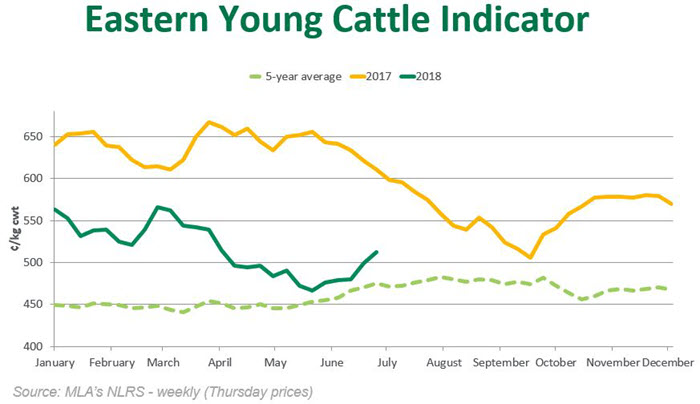 Join myMLA today
One username and password for key integrity and information Systems (LPA/NVD, NLIS, MSA & LDL).
A personalised online dashboard that provides news, weather, events and R&D tools relevant to you.
Customised market information and analysis.
Already registered for myMLA?