Feed grain price outlook
23 May 2018
Demand for feed grain has spiked in recent months, driving domestic prices towards four-year highs.
Darling Downs feed wheat was up $62/tonne since the beginning of April, to $397/tonne.
Global production is expected to fall on the back of dry conditions across the US and Europe
Robust global demand for grainfed beef is supporting high numbers of cattle on feed
Although winter is now just one week away, many of the nation's grain growers and livestock producers are yet to receive a decent seasonal break. Across Australia's grain belt, prospects for the winter cropping season are declining by the week, with no strong indication from the Bureau of Meteorology that rain is on the horizon.
Grain markets have experienced heightened activity, as graziers, lot feeders and grain traders compete for declining stocks. Between 1 April and 22 May, feed wheat delivered Darling Downs was up $62/tonne, or 19%, to $397/tonne.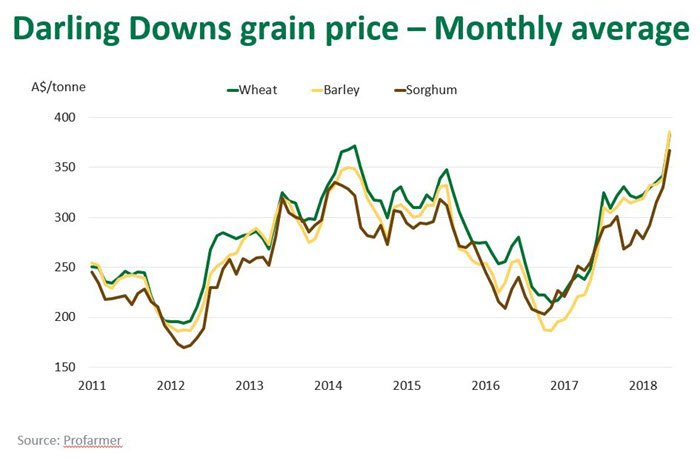 Looking to international production, dry conditions across key grain-producing states in the US are expected to weigh on crop yields. According to the latest USDA forecast, the 2018 US wheat crop will reach 1.19 billion bushels, down 6% year-on-year – which is the smallest harvest since 2002. After a record crop in 2017, Russian wheat production is expected to fall in 2018 on the back of challenging growing conditions.
Feed grain prices, which are a major input cost for feedlots, become increasingly relevant to Australian livestock markets in dry times. As pasture availability declines along with restocker demand, producers look to the growing lot-feeding sector to absorb any excess supply of livestock.
Cattle on feed exceeded one million head for the first time in the March quarter 2017, which was again the case in March 2018 despite significantly higher feed grain prices. During the March quarter 2017, Darling Downs wheat averaged $234/tonne, compared to $329/tonne in the March quarter 2018 – representing an increase of 40%.
While feed grain prices rose, the national feeder steer indicator fell 14% year-on-year, averaging 291A¢/kg live weight for the March quarter 2018. Although falls in feeder cattle prices were offset by higher grain prices, finished cattle prices were relatively stable, as the QLD 100-day grainfed steer over-the-hook (OTH) indicator fell only 7% year-on-year.
Since the beginning of April, processor demand for grainfed cattle has held firm, reflecting strong demand for grainfed beef in key export markets. This demand continues to support numbers on feed in the face of rising feed grain prices. As of 21 may, the QLD 100-day grainfed steer OTH indicator sat at 519A¢/kg carcase weight, up 4% since 1 January.
For more information, please refer to MLA's March quarter lot feeding brief.
Join myMLA today
One username and password for key integrity and information Systems (LPA/NVD, NLIS, MSA & LDL).
A personalised online dashboard that provides news, weather, events and R&D tools relevant to you.
Customised market information and analysis.
Already registered for myMLA?