Female slaughter surge
15 August 2018
With most of the country experiencing some level of drought, producers have been destocking at a rapid rate. A good indicator of how the season is going is the ratio of male vs female cattle being sent to processors. The latest ABS data has the percentage of female slaughter in June at 54%, the highest since June 2015 and within 2% of the highest on record, reached in the 2002 drought. Typically, the Australian cattle herd enters a contraction phase when the proportion of female slaughter exceeds 47% of total slaughter over a 12 month rolling average. ABS figures show that, nationally, that point was reached in May and has continued to increase since.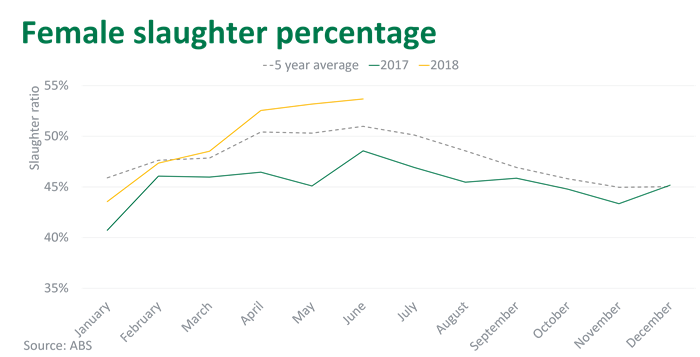 We entered the year with the national herd rebuilding following the liquidation of 2.4 million head* in the drought from 2013-15. The herd increased 4.2% in 2017 with improved seasonal conditions, however with the poor season this year, MLA estimates the herd will decline 1.8% in 2018.
Carcase weights are showing the effects of the increased female slaughter combined with tough conditions. The average carcase weight of slaughtered adult cattle reached 300kg for the first time last November. It didn't stay there for very long however, with a consistent decline since March to average 286.6kg in June. Female carcase weights decreased by 4% between March and June to an average of 253kg. Male slaughter has shown a similar decline, down 12kg on average between March and June. Taking into consideration the record numbers of cattle on feed, this highlights the lack of forage mass available.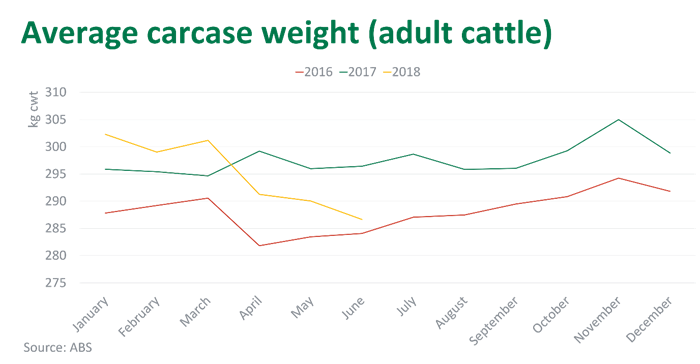 As of the August 3rd, NLRS slaughter data for NSW and Queensland shows a 12 month rolling average for female slaughter at 50% and 39% respectively. For the week ending August 3, the NSW female slaughter percentage reached 57%. While this number is slightly distorted due to the annual winter dairy cow cull, it is still well above the five-year average for the beginning of August of 50%. The female kill in Queensland also measured levels above the five-year average, up 1% to 41%.
*MLA estimate based on ABS data
Join myMLA today
One username and password for key integrity and information Systems (LPA/NVD, NLIS, MSA & LDL).
A personalised online dashboard that provides news, weather, events and R&D tools relevant to you.
Customised market information and analysis.
Already registered for myMLA?