Finished lambs in unchartered territory
18 July 2019
The limited supply of finished lambs across the eastern states has propelled trade and heavy lamb prices to incredible new levels, with both indicators recording the highest prices on record this week.
Yardings
For the week ending 12 July 2019, national lamb yardings were back 19% from the same week last year to 156,107 head. The significant decline in yardings from year-ago levels, at a time when supplies really started to tighten, highlights the contracting supply of lambs. A repeat of last year, whereby new season lambs were delayed in hitting the market, appears to be providing further support, despite record lamb prices encouraging producers to sell.
NSW yardings saw a small change, easing 4% from the same week last year to 108,219 head, while Victoria almost halved its saleyard throughput to 30,690 head last week, underpinned by reduced throughput at Bendigo. SA saw the largest decrease in yardings last week, easing 40% from the same week in 2018 to 7,500 head.
Of the total number of lambs yarded last week, trade weights accounted for 32% of the yardings, while heavy lambs contributed 43%, relatively consistent with this time last year.
Slaughter
Eastern states lamb slaughter for the week ending 12 July 2019 totalled 275,684 head, 19% below 2018 levels and 7% back on the week prior. NSW lamb slaughter eased 8% year-on-year to 91,893 head, Victoria declined 11% from 2018 levels at 165,244 head. SA has seen the largest decline in slaughter, contracting 74% from the same week last year to 11,640 head.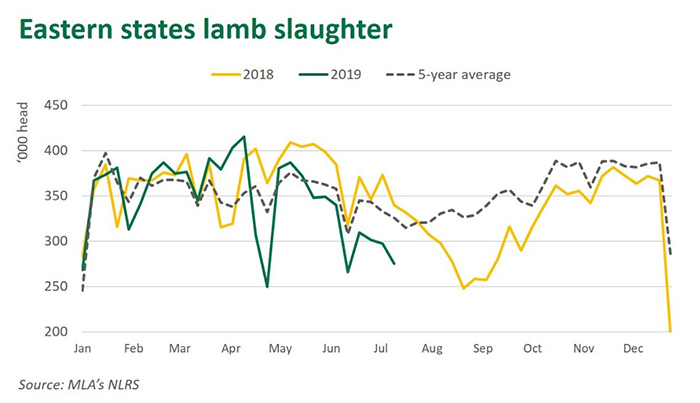 Prices
On Tuesday, the eastern states trade lamb indicator was reported at 941¢/kg after breaking 950¢/kg carcase weight (cwt) for the first time on Monday. As of last week, NSW trade lambs were operating at a premium of 34¢ to Victoria and 102¢ to SA. The delay in new season lambs, in particular a limited supply of early new season lambs out of NSW, is driving competition for finished lambs.
Heavy lambs continue to break new records, closing at 993¢/kg cwt on Tuesday, 221¢ above year-ago levels. NSW was overtaken by Victoria last week to record the highest state based indicator, with NSW heavy lambs now trading at a 3¢ discount to Victoria, while retaining a 108¢ premium over SA heavy lambs.
© Meat & Livestock Australia Limited, 2019
Join myMLA today
One username and password for key integrity and information Systems (LPA/NVD, NLIS, MSA & LDL).
A personalised online dashboard that provides news, weather, events and R&D tools relevant to you.
Customised market information and analysis.
Already registered for myMLA?