Global cattle prices converge
19 September 2017
A sharp decline in US fed cattle prices has seen global cattle prices converge to their narrowest point since September 2011 – on an A$ currency adjusted basis. As illustrated in the chart below, the range between that of the highest (US) and lowest (Brazil) reported cattle indicators is now less than 1A$ dollar (0.94A¢), the equivalent of 49%.
US
The US choice fed cattle indicator averaged 409.71A¢/kg lwt in May, but has since declined approximately 70% (or 121.7A¢) to average 287.99A¢/kg lwt in September.
US retail and foodservice operators took advantage of low beef prices at the end of 2016 and into early 2017. Beef was heavily featured and often at a discounted price, supporting strong consumer demand. Combined with the seasonal increase in demand (grilling season) and diverging import (lower) and export (higher) provisions, US cattle prices surged during the first half of 2017.
Fast-forward to September and US fed cattle prices are far more reflective of the growth in US beef production. Market-ready supplies are expected to rise until the end of the year – the result of aggressive feedlot placements.
Currency movements, specifically a weakening US dollar, also exasperated the marked decline in recent months.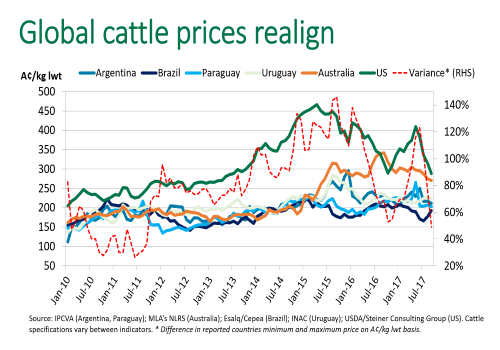 Brazil
Brazilian cattle prices have recovered modestly in recent months, following several industry scandals and market access restrictions this year.
Sao Paulo state steer prices averaged 193.26A¢/kg lwt in September, up 27A¢ since July, as the US announced the suspension on all fresh and frozen beef imports from Brazil. In fact, Brazilian cattle prices are now tracking above that of the five-year average (186.3 A¢/kg lwt).
Australia
Australian cattle prices have continued their downward trajectory, underpinned by ongoing poor seasonal conditions driving cattle turn-off and reducing restocker demand. Australian cattle prices remain at a discount to that of the US – the Australian heavy steer indicator averaged 270.2A¢/kg lwt for September-to-date.
Join myMLA today
One username and password for key integrity and information Systems (LPA/NVD, NLIS, MSA & LDL).
A personalised online dashboard that provides news, weather, events and R&D tools relevant to you.
Customised market information and analysis.
Already registered for myMLA?