Global cattle prices in balance
21 March 2018
Changing market dynamics in both Australia and the US has seen a lift in finished cattle prices, whereas prices in Brazil have remained largely unchanged.
Currency and consumer demand will continue to play a key role in cattle prices moving forward (this is especially relevant given the impending summer 'grilling season' in the US).
Australia
The Australian heavy steer indicator averaged 261.68¢/kg live weight (lwt) in February, however has since rallied following heavy rain across many key supply regions of Queensland, lifting producers' spirits and the market alike – currently reported at 279.70¢/kg lwt.
Historically, Australian and US cattle prices are correlated – underpinned by the two nations sharing a range of markets (Japan, Korea and the US domestic market). Typically, Australian saleyard heavy steers average around a 20–25% discount to the US choice fed steers, on a currency-adjusted basis.Based on the latest weekly prices of both indicators, the current discount stands at 23%.
The latest Bureau of Meteorology (BOM) three-month rainfall outlook points to average seasonal conditions across much of the country from April to June. Combined with the recent rainfall, cattle prices could continue to find support as supply would tighten.
Queensland heavy steer over-the-hook indicator(300–400kg, A-C muscle) averaged 495¢ – up 4¢/kg carcase weight (cwt) on the week prior.
US
It's worth noting that the US choice fed cattle indicator averaged 293.20A¢/kg live weight (lwt) in September 2017 – a rare dip below 300A¢/kg lwt in recent years.
A strengthening Australian dollar and lower paid fed cash prices contributed to this decline. US end users, including importers and wholesalers, anticipated further declines heading into winter; however, this scenario did not eventuate as consumer demand kept pace and offset any further decline.
Since then, the indicator has bounced back, averaging 351.71A¢/kg lwt in February 2018, approximately 20% (or 58.5¢) higher than in September, but only a 2% lift compared with the same period last year.
Demand (domestic and global) has been the overwhelming driver pushing cattle prices higher over the aforementioned period. Despite, the 'wall' of beef coming out of the US, robust demand has more than offset the production wave to date, supporting US fed cattle prices. The focus in the US market now switches to how demand will trend over the spring and summer months (grilling season) - a period of peak demand.
US fed cattle futures – while somewhat volatile since the turn of the year – have edged lower. April and May futures contracts have lost further ground this week due to ongoing concerns surrounding the substantial supply of finished cattle entering the market during April and May, requiring an adjustment lower for US cattle prices.
Currency movements, specifically a stronger US dollar, also underpinned an increase for the US choice fed cattle indicator on an Australian dollar basis in recent months. The Australian dollar has declined US4¢ or (5%) since the end of January - currently trading at US77¢.
Brazil
Since recovering from several industry scandals and market access restrictions last year, Brazilian cattle prices have remained largely unchanged, further supported by an element of stability in the Brazilian Real against the Australian dollar.
Sao Paulo state steer prices averaged 187.15A¢/kg live weight (lwt) in February, in-line with that of the five-year average (188.79A¢/kg lwt).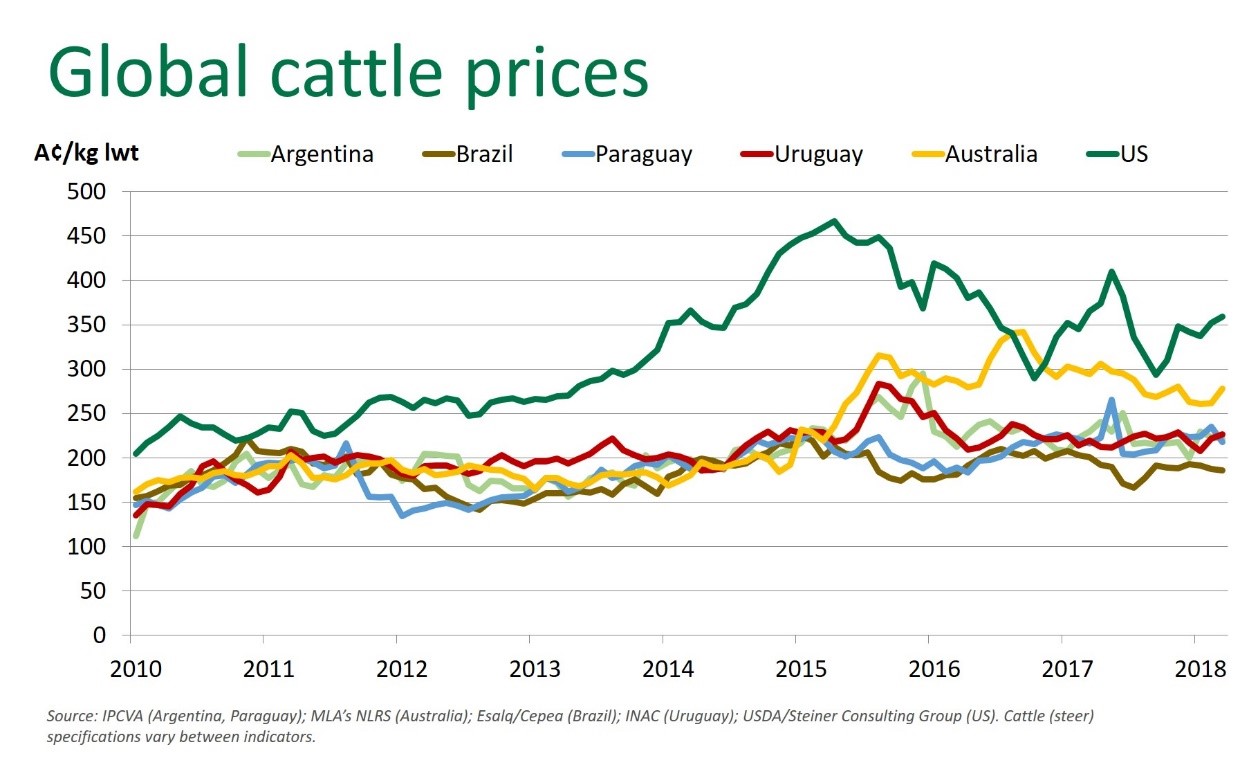 Join myMLA today
One username and password for key integrity and information Systems (LPA/NVD, NLIS, MSA & LDL).
A personalised online dashboard that provides news, weather, events and R&D tools relevant to you.
Customised market information and analysis.
Already registered for myMLA?