Back to

Prices & Markets
Subscribe to Prices & Markets e-newsletter
For in-depth red meat market news, information and analysis.
SIGN UP
Global demand dynamics shift
13 June 2019
Swings in Australian cattle, lamb and sheep supply have largely driven Australian red meat exports so far this year. However, shifting dynamics in global markets has seen some pivotal changes in the make-up of Australia's export destinations. As highlighted last week, the greatest of these forces has been the surge in meat trade to China in recent months. Global demand more broadly has also been strong, with a suite of Australia's export markets showing positive signs.
Elevated turnoff pushing exports higher
May beef exports, at 105,000 tonnes swt, dipped below year-ago levels for the first time in 18 months but remained historically high, with shipments earlier in the month likely impacted by the late-April extended Easter break. May lamb exports, at just under 30,000 tonnes swt, broke fresh monthly shipment records but mutton exports, at just over 12,000 tonnes swt, reflected the dwindling supply of available sheep ahead of winter.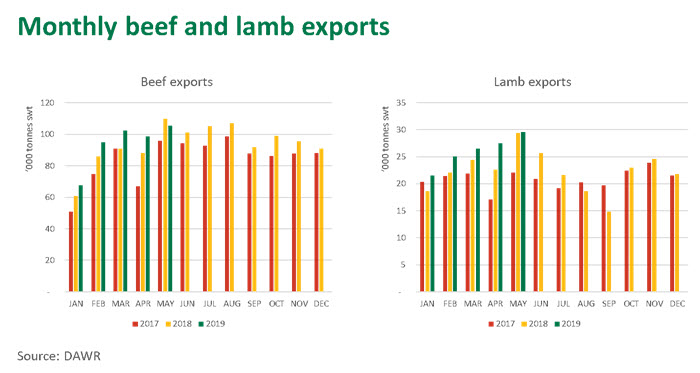 With the BOM forecasting a below-average chance of median rainfall over the next three months, cattle will likely continue to flow through Australia's slaughter floors, as feed and water availability remain key challenges. However, lamb supplies are expected to become particularly tight through winter, as old-season lambs run dry and lower joining rates and poor feed conditions push back the influx of new season spring lambs on the market. With many flocks already reduced to a core ewe base, mutton slaughter is also forecast to remain reduced over the next few months until southern producers assess feed and stocking rates post lambing.
Global demand pulling product
Many key export markets have been willing buyers of Australian red meat, with strong competition for product helping to support prices despite the elevated supply. This has been further supported by an Australian dollar hovering around 70US¢, down from the 76US¢ this time last year. China has been the biggest game changer, with January-May Australian beef exports to the market up 61% year-on-year, and lamb and mutton exports up 22% and 78%, respectively. While not yet Australia's most valuable red meat market, China has been the largest combined beef and sheepmeat export volume destination so far in 2019, surpassing the US and Japan for the first time.
While the growth in lower quality cuts may be attributed to the spread of African Swine Fever, the trade expansion began before the disease outbreak and the increase has been evident in high and low value cuts alike. As highlighted below, while manufacturing beef exports have increased 74% over the first five months of 2019, other major cut categories have expanded a similar degree. Grainfed beef loin exports into the market, for instance, have increased 54% year-on-year so far this year.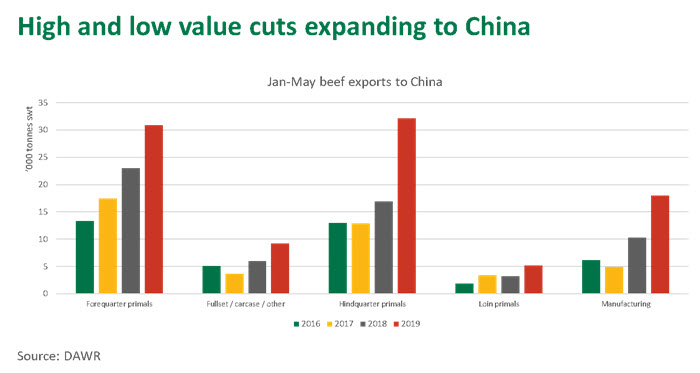 Meanwhile, increased sheepmeat exports to China have been underpinned by a surge in leg, shoulder and carcase shipments, while breast and flap – one of the cheapest cuts and traditionally used in Chinese hot pot – has actually declined so far this year.
However, China is not the only market showing strong demand.
For beef, the US has also recorded strong growth. Manufacturing beef exports to the US have expanded 14% so far this year, led by the leaner end of the market (exports of 85CL and higher have increased 27%) which has offset reduced demand for fatty trim (exports of 80CL and below have reduced 35%). Meanwhile, chilled grassed beef primal exports to the US – a high value niche market – have increased 9% to a four-year high during the first five months of 2019.
Beef exports to Korea are up 8% so far this year, despite strong competition from US product. Meanwhile, exports to Japan are back 9% year-on-year but that is compared to a high base period (Japan tariff on imported US beef temporarily snapped back to 50% in 2018) and still above 2016 and 2017 levels.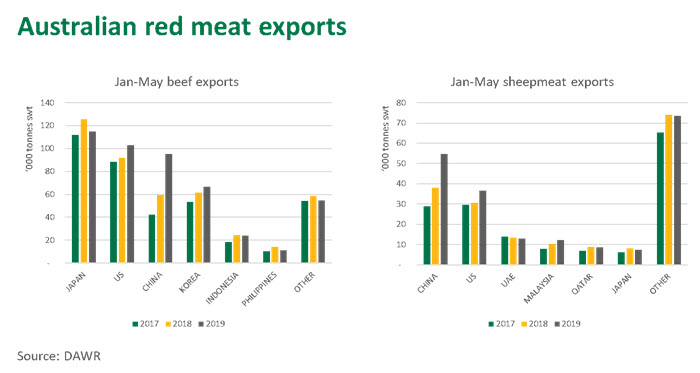 Lamb exports have expanded across the majority of destinations in 2019, with the US and Middle East, up 20% and 4% respectively. Amid tight supply and high prices, mutton exports have come under pressure and most markets have been flat, at best, in light of the demand increase from China. New Zealand, Australia's only substantial export rival, will be unable to offer much sheepmeat supply relief to global markets over the next six months, as the industry enters a typical seasonal supply trough.
Read the latest red meat export summaries
© Meat & Livestock Australia Limited, 2019