Global economic recovery to support red meat demand
21 February 2018
The global economy is the strongest it has been since the Global Financial Crisis. The recovery is broad, with developed and developing countries alike posting an improvement in economic growth in 2017.
The speed of turnaround in the US has surprised many – although heavily fuelled by government spending and tax cuts – while Japan has experienced its longest run of growth since the 1980s.
This is good news for an export-oriented Australian red meat industry. In general, people tend to increase meat consumption when they have more disposable income.
The International Monetary Fund has recently released an improved outlook for the world economy, forecasting global output growth of 3.9% in 2018, up from 3.2% in 2016 and an estimated 3.7% last year.
In the developed world, the US, Europe and Japan all appear to have started 2018 on a strong note, spurred on by a cyclical upswing in economic activity, increased trade and US tax cuts.
The International Monetary Fund has an improved outlook for many developing countries, notably Brazil and Saudi Arabia, supported by a lift in commodity prices, in particular oil, and increased export receipts.
Asia is forecast to remain the fasting growing region in the world, with the International Monetary Fund expecting output in China, India and the ASEAN-5 (South-East Asia) to grow at 6.6%, 7.4% and 5.3%, respectively, in 2018.
However, sustained economic growth is not guaranteed and the World Bank's January outlook warned financial stress, increased protectionism (such as trade barriers) and rising geopolitical tensions could derail the recovery. Recent volatility in global financial markets also reflects uncertainty around inflationary pressures and the US central banks' increased willingness to tighten monetary policy.
Nevertheless, if the global economy holds its course, it will support demand in many of Australia's key red meat export markets, represented in the graphic below. Of Australia's top 10 beef markets, all but Japan are forecast to grow real gross domestic product in excess of 2% in 2018 and China, Indonesia and the Philippines are expected to expand 6.5%, 5.3% and 6.3%, respectively (BMI). It's a similar story for Australia's top 10 sheepmeat markets.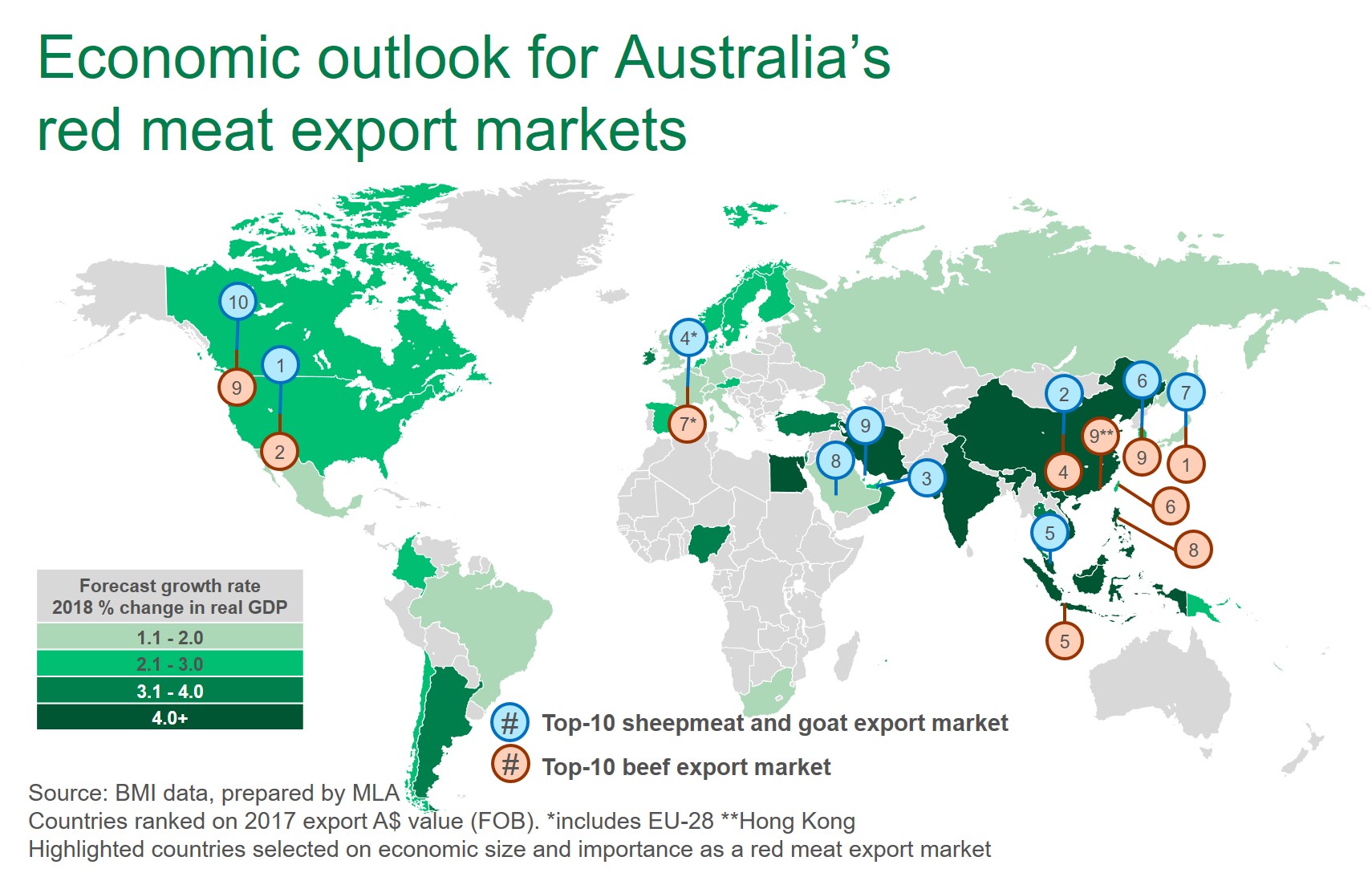 There are also improved outlooks for some South American economies, particularly Brazil, which teetered out of recession in the second half of 2017. Some of these nations are not key export markets for Australia but they are big beef eaters, and an improved economic outlook will go some way to soaking up excess supply on the global market. Likewise, US beef consumption is on the rise and, if the economic expansion continues, the US will be able to consumer a lot more beef coming through the supply chain.
Global growth is good for Australian livestock producers; however, it is not the only factor determining price. As the last five years have highlighted, weather, and its impact on supply, can have an overwhelming impact on Australian farm gate returns.
Furthermore, if commodity prices continue their recovery, the Australian dollar may once again come under upward pressure (as seen during the years of the mining boom), making Australian beef and lamb less competitive on the global market.
Join myMLA today
One username and password for key integrity and information Systems (LPA/NVD, NLIS, MSA & LDL).
A personalised online dashboard that provides news, weather, events and R&D tools relevant to you.
Customised market information and analysis.
Already registered for myMLA?