Good growth for grids
18 July 2018
Over-the-hook (OTH) indicators for cattle have continued to increase over the last week following some widespread showers, albeit in fairly small amounts, which helped market confidence.
All the major indicators lifted, with Queensland seeing the greatest increase. Cow indicators in South Australia are up 16¢/kg cwt while Eastern states adult cattle slaughter has remained fairly steady, averaging 140-150,000 head a week since the beginning of May.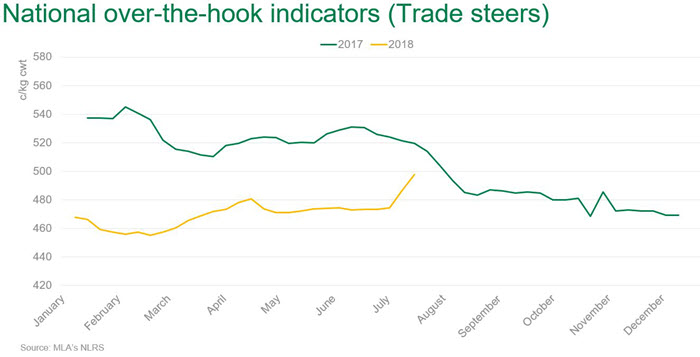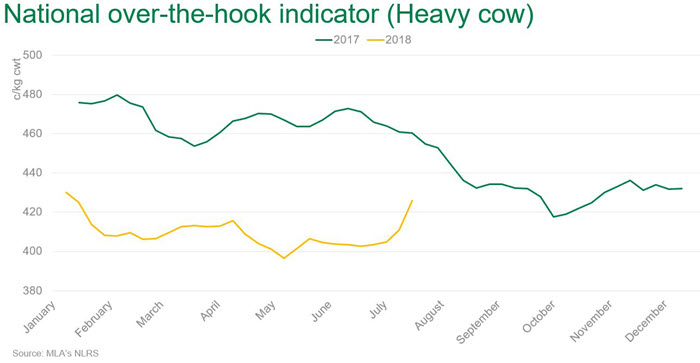 National
Nationally, all indicators have shown a positive trend, with solid increases for the second week in a row. The trade steer OTH indicator increased 24¢ (to 498¢/kg cwt) since the beginning of July. This is still a 5% decrease on the 520¢/kg cwt recorded during the same period last year, although it is the highest point since August 2017.
New South Wales
The NSW OTH trade steer indicator has been experiencing slow but consistent growth since the end of February (with the exception of a 10¢ decline in the middle of April). This has continued this week, with another 12¢ increase to 511¢/kg cwt for trade steers, with a similar trend reflected across all young cattle indicators.
Cow indicators have suffered more with the effects of the season as many producers offload stock, which has produced increased supply while quality has also eased. This has culminated in prices lowering 25¢ through April and May. The market has stabilized since then, to record a 19¢ increase over the last 2 weeks, climbing back to 423¢/kg cwt for heavy cows. This has brought the indicators the closest to 2017 prices so far this year.
Victoria
Victoria experienced less growth in OTH indicators than other parts of the country, although has still recorded increases of around 15¢ for all young cattle indicators. Cows have shown more growth with the heavy cow indicator up 22¢ to 419¢/kg cwt over the last 2 weeks.
Queensland
The North Queensland trade steer indicator has regained ground over the last 2 weeks, increasing for the first time since the beginning of April, up 22¢ to 469¢/kg cwt.
A similar trend has been reflected across the other state indicators. The Queensland trade steer OTH indicator has moved to 482¢ (a fortnightly increase of 5%), the first time it has been over the 480¢/kg cwt mark since 16th of April.
Join myMLA today
One username and password for key integrity and information Systems (LPA/NVD, NLIS, MSA & LDL).
A personalised online dashboard that provides news, weather, events and R&D tools relevant to you.
Customised market information and analysis.
Already registered for myMLA?